By Richard Barker on
Look To The Stars' UK correspondent Richard Barker – nominated as Britain's Most Inspiring Fundraiser – recently met with one of Britain's top philanthropists and filed this report.
Jack Petchey is a British businessman and leading philanthropist, born and brought up in the East End of London. During the second world war, he served in the Royal Navy and used his Navy discharge pay to start a car hire and car sales business. This grew into a business empire worth close to half a billion pounds.
The Jack Petchey Foundation, formed in 1999, has given over £50 million to youth programs. He started a Young Achiever award scheme recognising "extreme endeavour and to help young people to help themselves". Over 60,000 young people have received awards since the scheme's inception.
Jack Petchey was chairman of British football club Watford F.C. for 10 years, buying the club off singer Sir Elton John in 1987. Jack re-sold the club to Sir Elton in 1997. In 2004 Jack Petchey was awarded an OBE (Order of the British Empire) at Buckingham Palace by Her Majesty The Queen.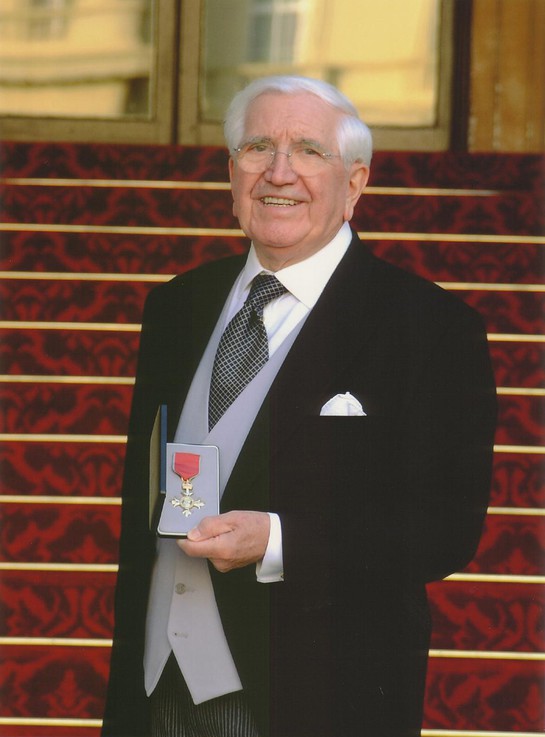 I am one of Jack Petchey's Young Achievers. They notified me that I had won the award on my seventeenth birthday. I was fortunate enough to meet Jack Petchey at the awards ceremony, a seminal moment in my life. I never knew that people gave so much time and money back to their communities. It was like meeting a rock star! I suddenly realised that I wanted to be in his position. This was definitely a life changing experience. I've since launched my own charitable appeal and have helped to raise over £100,000 for good causes.
I recently had lunch with Jack Petchey and Trudy Kilcullen – The Jack Petchey Foundation's Chief Operations Officer. Jack filled me with inspiring and positive thoughts, so I sent Jack a few questions in order to share his amazing story with you.
What motivated you to create the Jack Petchey Foundation?
I have taken a lot out of life and I believe that it is everybody's responsibility to give back. That is why I set up the Foundation, particularly to support and encourage young people to achieve their potential, make the most of their lives and give back to society.
What is a Young Achiever?
An Achiever is someone who tries their absolute best and looks for the solutions in life. We reward over 12,000 young people each year, ordinary youngsters who have done their best and made a difference to their lives and their community.
Have you met anyone who has inspired you?
The people who particularly inspired me were those who supported me in my youth. In my life story The 50/50 Man (see www.jackpetcheyfoundation.co.uk for further information) I write about those early influences and how much they affirmed me and encouraged me in life. It is about the relationship and the encouragement that adults give to young people that inspires them to develop their confidence and outlook on life.
Would you encourage young people to become entrepreneurs?
It depends what you mean by 'entrepreneurs'. Not everyone can become successful business person or an actor or singer. We have to look at our own individual strengths and develop them. I encourage all young people to find their strengths and develop them. I encourage them not to look at problems as blocks but as challenges and to find their own solutions. Try your best and develop to your full potential – in this way you will overcome life's challenges and in doing this you are an entrepreneur!
Do you think that more businessmen should become philanthropists?
As I said – I think we all have a responsibility to give back to society!
What are your plans for the future?
I try to live life to the full. Everyday I want to continue to encourage and support young people in developing their potential, that is what gets me out of bed in the morning! I also want young people to encourage and inspire other young people. If you have enjoyed reading this – have a look at the Jack Petchey Foundation Fan Page and leave your inspiring message there! Thank you.
These final two questions come from an interview with a young man named Antonio Akue. I think that the final response is particularly inspiring.
What one thing brings you the most joy and, when you retire, what would you like to be remembered for?

What gives me joy is seeing youngsters achieve more. I want to be remembered as a pleasant fellow who gave back to the young people.
What advice can you give me, as a young person growing up in today's society?
It's easier growing up in this society than when I was growing up- there's more opportunity. When you see an opportunity, take it. Have the guts to go for it and have determination.
The Jack Petchey Foundation has worked with a number of celebrities over the years, including its patrons Helen Mirren, Griff Rhys-Jones and Tim Campbell, as well as Chris Tarrant, June Sarpong and many others. To find out more about the charity and the Young Achievers program, visit the official website.