Last year, Jumpstart's Read for the Record 2009 campaign officially set a new record for the world's largest shared reading experience – on Oct. 8th, adults across the globe read Eric Carle's The Very Hungry Caterpillar to 2,019,752 children! And now the charity wants you to choose the official campaign book for 2010.
Last year's campaign featured a host of celebrities, including Justin Bieber (pictured), Nelly Furtado, Meredith Vieira, Lo Bosworth, Mary-Louise Parker, Tiki Barber, Vince Vaughn and many more.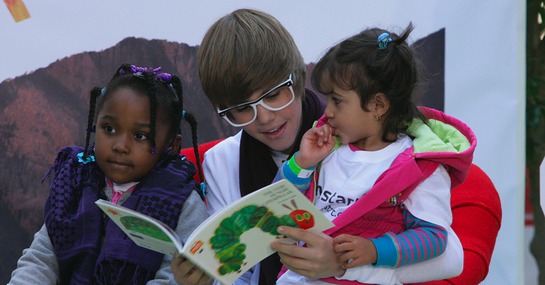 Choose one of the following children's book titles – Blueberries for Sal, Make Way for Ducklings, Peter's Chair, and The Snowy Day – and it could become the official campaign book for 2010. Voting closes on February 28. The book that receives the most votes will be announced in March and will become the centerpiece of Jumpstart's fifth annual record-breaking campaign!
To vote, click here.