The rainy season is in full swing in Haiti and, more than three months after the Jan. 12 earthquake, approximately 1 million Haitians are still living in tents in massive "tent cities," struggling to keep dry.
Yéle Haiti is taking the lead in the movement to relocate families from dilapidated tents to 1,200 sustainable temporary housing units across the country. The temporary homes are being built now and will be ready for tenants in the next few weeks. Claudinette Jean, mother, fashion designer turned consummate volunteer, and wife of Yéle Haiti co-founder Wyclef Jean, is spearheading this project on behalf of Yéle Haiti.
The housing units, constructed of wood and cement with metal roofs, can last for several years, or until permanent houses are complete. The units will be 12 feet by 12 feet, complete with windows, front doors and well-constructed roofs, and can house up to six people. One hundred of the homes will be built within each of 12 sites. The sites already confirmed include Croix-des-Bouquets, Dèlma and Cité Soleil; the others will be approved by Yéle Haiti in the next few weeks. Women and children currently living in unimaginable conditions since the earthquake will be first to be relocated.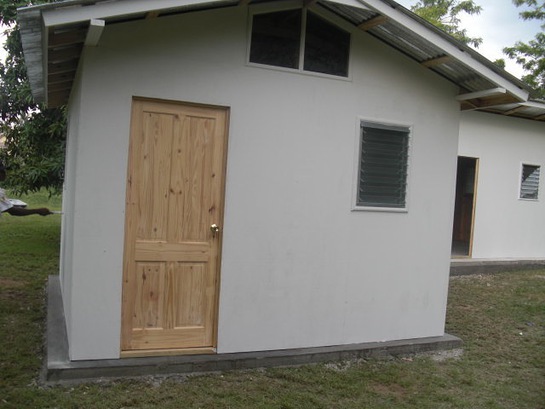 Claudinette traveled to her native country this month to examine and approve the housing models and oversee construction of the new units, offered for the first time, through Yéle Haiti's ground initiative programs permeating the country.
In advance of the housing project, Claudinette and members of Yéle Haiti, including Wyclef Jean, made several trips across Haiti, including areas where no other nongovernmental agencies (NGOs) or nonprofits will go. They assessed the stability of original homes affected by the quake and the conditions of the tents used to shelter people to decide where the temporary houses should be located.
"They're getting wet from the hard rains," said Claudinette after observing families who have had no choice but to use sheets and cardboard for tents after the earthquake destroyed their villages. "The temporary houses have been tested and keep out rain, even on days and nights when it rains nonstop."
Back from Haiti, Claudinette continues her work at her South Orange, N.J., clothing boutique, which has been transformed into a Yéle Haiti packing facility. She is collecting and sorting supplies to take to her homeland, paying attention to details, including the need for such items as books, pens, beds for clinics and clothing needs for every individual including pregnant women.
"What we take for granted is so important to everyone," said Claudinette.