Wyclef Jean, co-founder of the Yéle Haiti Foundation, welcomed three young Haitian amputees on their trip to get urgently needed artificial limbs this weekend at JFK airport in NYC.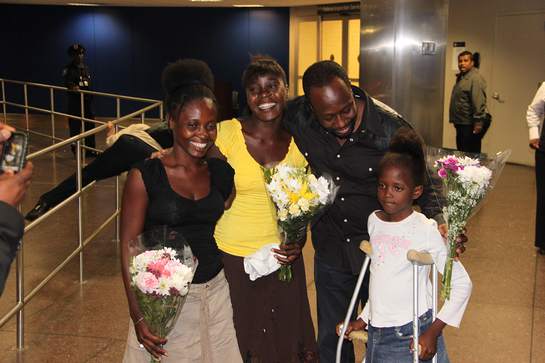 Yéle Haiti, working with the Global Medical Relief Fund (GMRF), has provided eight round-trip tickets between Port-au-Prince and the GMRF's headquarters in Staten Island, N.Y. The group will then travel to Philadelphia this week where the three patients will be treated at Shriners Hospitals for Children, which will be providing the care for free.
Margarette Pierre, 17, lost her arm to above her elbow in the Jan. 12 earthquake; Chantal Mori, also 17, lost her arm; and Farah Maurice, 8, lost her leg above her knee. They will all be traveling under the auspices of the U.S. State Department with "humanitarian parole" papers.
In addition to flying young Haitians to the states for medical care, Yéle Haiti has created a Amputee Rehabilitation Program that will connect amputees with long-term prosthetic care in and around Haiti. This will aid in connecting the estimated 4,000 to 6,000 Haitians who lost limbs during the Jan. 12 earthquake with the country's Ministry of Health, Haitian health professionals, international relief agencies, and foundations and private companies currently working on long-term prosthetic care.
In addition to handling the basic operations of the program, Yéle will fund grants to the groups providing long-term care at prosthetic and rehabilitation facilities, as well as contribute to the costs of prosthetic limbs.