On Sunday, May 23, Wyclef Jean received an honorary doctorate from Western Connecticut State University and delivered a commencement speech to the class of 2010.
The university presented Wyclef with a check for $9,500 for his Yéle Haiti Foundation and the crowd cheered as he encouraged the students to create a vision for their future and chase their dreams.
"Yesterday I gave the commencement speech at Western Connecticut State University in Danbury, Conn," wrote the star in the Huffington Post. "I've spoken at lots of places before — the U.N., the White House, awards shows where hundreds of thousands of people were watching. But this was my first commencement gig. I felt a big responsibility. I wondered what words of wisdom I could give to those young adults, about to start a whole new life.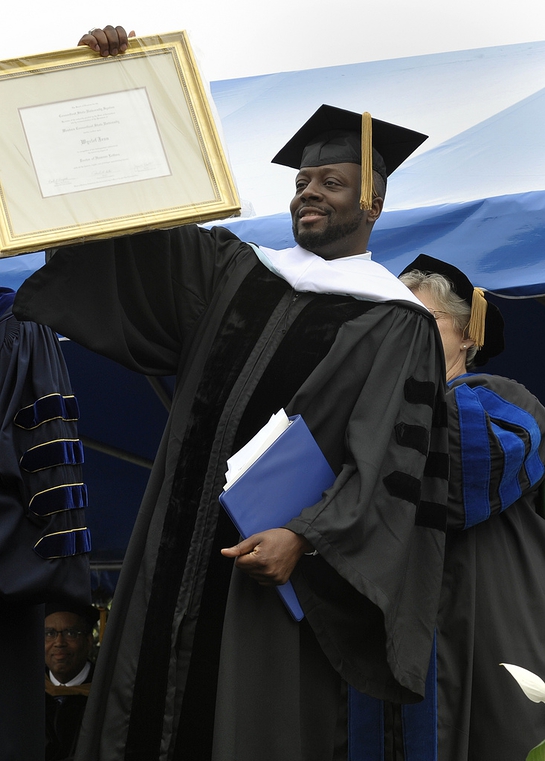 "I came to America as a boy excited. This was the land of possibilities and opportunities. I loved music, writing, singing, playing. That's all I ever wanted to do.I was told that I didn't have a chance. That there was no way I could make a living as a musician or a rapper.
"If you have a vision for yourself, it won't matter that others may be blind to what you can see. That vision will help you see past many factors that can discourage you. That vision will help you see past the setbacks — and setbacks will happen.
"I have had a lot of success in entertainment. But I didn't really become successful as a person until I began to give of myself to others who needed my help. Outside of being a husband and a father, nothing has given me greater satisfaction than the work I've been able to do with Yéle Haiti, the charity I founded in 2005.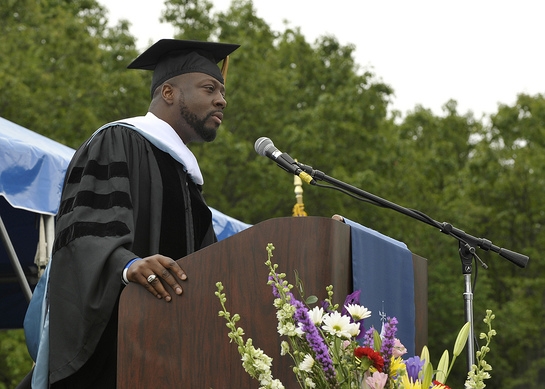 "Create a vision based on your specific gifts, talents and tools. There is greatness in simply being you and using your skill to do something with your vision — and to put your personal plan in motion.
"You are ultimately responsible for how far you can see. Your future belongs to you, and you alone.
"Believe it or not, I used to ride a donkey to school in Haiti. I lived in a one‐room shack. When I came to America, I didn't speak a word of English. Today I am able to travel the world, reach people with my music, work on behalf of my native Haiti and even speak at a college commencement. I am proof that anything you want is possible, if you can only envision it first."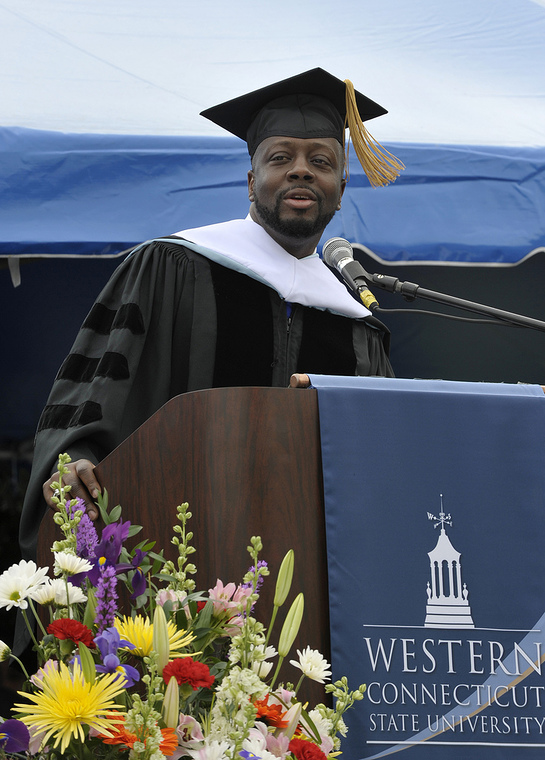 Read Wyclef's full speech here.