Home appliance leader LG Electronics USA, with assistance from stars from the stage and screen, including Tony Award winners Scarlett Johansson and Viola Davis, as well as Helen Mirren, Sean Hayes, Nathan Lane, Raquel Welch, Kristin Chenoweth and the band Green Day helped make the Great White Way "green" at the 64th Annual Tony Awards.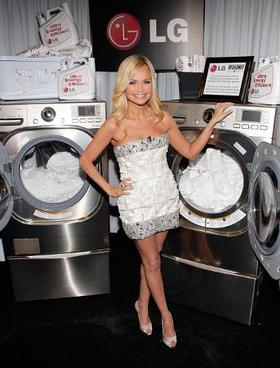 As the premier sponsor of The Official Talent Gift Lounge backstage at The Tony Awards, LG pledged to donate an ultra energy efficient washer and dryer to a Broadway theater in the name of each visitor to the Lounge. In cooperation with Broadway Green Alliance (BGA), LG will outfit all 45 Broadway theaters with new laundry pairs, among the most energy efficient washers on the market, to drastically reduce energy and water usage for years to come.
Over the past two years, BGA members have implemented a host of greener practices including major recycling programs, switching to more eco-friendly cleaning products and converting marquee and outside lighting to more efficient LED or CFL bulbs. The BGA also has encouraged facilities to switch to more efficient appliances.
"When you think of Broadway, you probably don't think of laundry. But the reality is that the theater community generates thousands of pounds of laundry a week, which results in a huge expenditure of water and energy," said Susan Sampliner, co-chair, Broadway Green Alliance. "By partnering with LG to replace theaters' older laundry pairs with new ultra efficient washers and dryers, we will be able to drastically reduce our energy and water consumption."
Stars who stopped by the Gift Lounge not only helped LG assist Broadway in going green, but also "aired their dirty laundry." Celebrities, including Antonio Banderas, Melanie Griffith, Mark Sanchez, Jamie-Lynn Sigler, Ricky Martin, Matthew Morrison, Paula Abdul, Chris Noth and David Hyde Pierce, autographed a t-shirt made of recycled bottles. The shirts featured phrases such as "Whose dirty laundry would you want to wash?"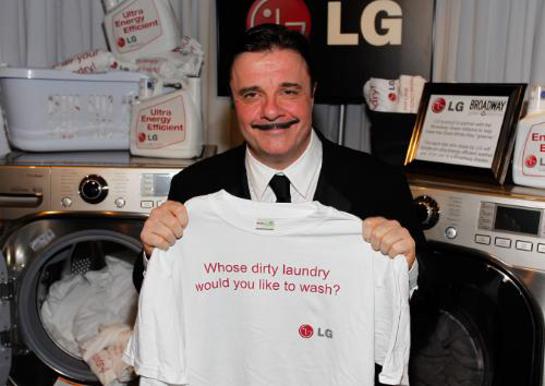 "LG enthusiastically supports the Broadway Green Alliance and their efforts to make the country's most famous theaters more eco-friendly," said Peter Reiner, senior vice president, marketing, LG Electronics USA. "By outfitting dozens of venues with our ultra-efficient washers and dryers, we are helping to transform Broadway into something greener and something better."
Photos: PR Newswire
Source: PR Newswire