The Downtown Women's Center (DWC), a non-profit that provides permanent housing and supportive services for homeless women on LA's Skid Row, was selected by Lilith Fair founder Sarah McLachlan as the local charity for the music festival's Los Angeles area stop.
At a press conference before the July 10th concert at Verizon Wireless Amphitheatre, McLachlan and a number of the other female performers presented DWC with a check for $9,000.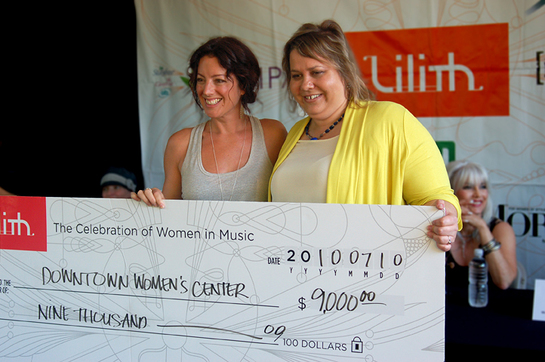 "It's very empowering to have these strong, talented and creative women support ending homelessness for women," said Lisa Watson, DWC CEO. "The money that the artists and all the Lilith Fair fans have raised for the Downtown Women's Center will go towards helping women suffering from homelessness and extreme poverty in downtown Los Angeles."
Lilith 2010, the only touring festival featuring an all-female line-up, returned after an 11-year hiatus. In addition to Sarah McLachlan, performers included Emmylou Harris, Brandi Carlile, Miranda Lambert, and local favorite Jenni Rivera.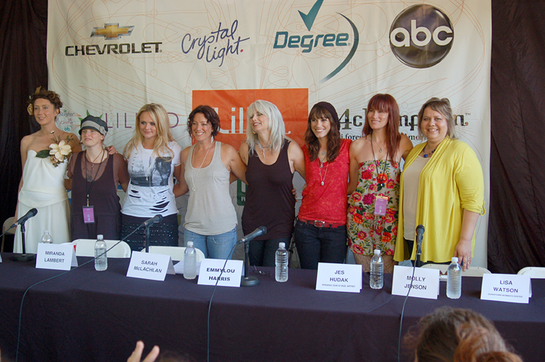 Speaking on women's rights at the press conference, McLachlan said, "I have great respect for the women who came before us and have made it easier for us. We don't take our rights for granted, and we should talk about those women who don't have a voice."
Founded in 1978, The Downtown Women's Center is the only resource in Los Angeles that is exclusively dedicated to serving the unique needs of homeless and very low-income women. DWC provides over 50,000 meals, 47 permanent supportive housing apartments, and a wide array of health, education and support services to more than 2,500 women each year. Learn more at DWCweb.org.
Photos: Lisa Marsh