By Delinda Lombardo on
On Saturday night, the Surf Industry Manufacturers Association (SIMA) honored Jason Mraz as their 2010 Humanitarian of the Year during Liquid Nation Ball 7 in La Jolla, California.
Liquid Nation is the official fundraiser for the SIMA Humanitarian Fund, which benefits more than a dozen surf-related non-profits including Life Rolls On, Surfer's Healing and Keep-a-Breast.
"As a fellow surfer who calls the beaches of San Diego home, Jason is one of our own," said Fernando Aguerre, SIMA Humanitarian Fund President and Liquid Nation Ball Chairman and co-founder, "He not only inspires us and millions of young people around the world with his amazing musical talent, but we are all immensely impressed by his humble and eager heart to help others and make this world a better place."


Mraz, who has two Grammy awards under his belt, is also notorious for his selfless dedication to charitable causes, and Aguerre was quick to remind us all that this event was "not just about raising money, but about raising awareness for the organizations." And this year, thanks to Mraz, they brought awareness to a whole new level.
Mraz is an avid supporter of Jesse Billauer and his organization Life Rolls On, which utilizes the sport of surfing to improve the quality of life of young people affected by spinal cord injury. Throughout the years, Mraz has dedicated himself to promoting the organization by garnering public support, serving as an honorary chairman for their events and performing benefit concerts.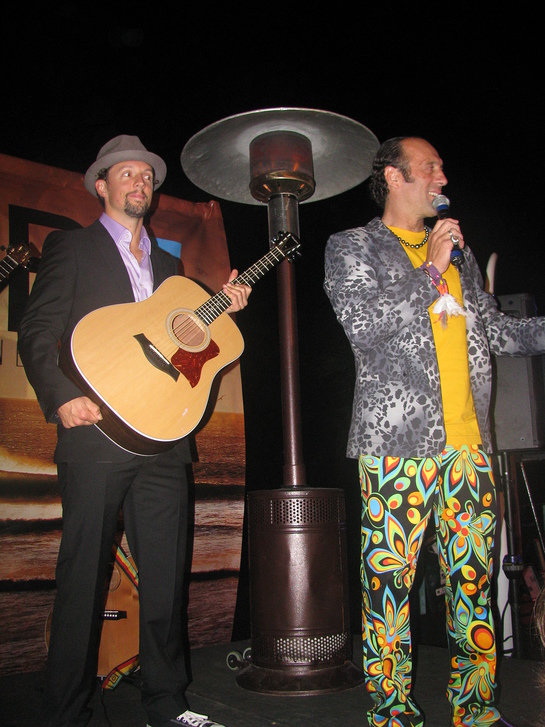 And this is where awareness comes in. Mraz was given the Humanitarian of the Year award by Jesse Billauer and pro-surfer Kassia Meador. To see these three together on stage was nothing short of spectacular, but it was Mraz's young fans – sitting front and center – whose faces reflected love, hope and admiration, that really made the night special.
These kids were listening when Meador, an ambassador for the 'Supergirl Junior Pro Surf event,' Sambazon Warrior, and Keep a Breast spokesperson, spoke of Billauer and Mraz's friendship. These kids were listening when Billauer spoke from his wheelchair and told them they can do anything. These kids were listening when Mraz spoke of gratitude, love, and the importance of giving back. They were listening.
And everyone was listening when Mraz gave a brief impromptu performance while auctioning off a guitar "This guitar could be yours…concert tickets could be yours…."
And another guest that others were listening to was the always animated NBA legend Bill Walton. Walton was more than happy to pose for fan photos while delighting many with his wit and humor. He and his wife Lori generously donated a 'Once-in-a-Lifetime Lakers Game Experience' to the auction lot.
Safe to say, this year's event planted seeds of awareness and inspiration in many generations.
In addition to his efforts for Life Rolls On, Mraz's humanitarian work also extends to groups such as the Save The Music Foundation, MusiCares, Free The Children, as well as his hometown arts program, SPARC.
Look to the Stars would like to thank SIMA and Aguerre for a wonderful evening and also David at www.Leightworks.com and Jade from Sweetsalon.com for supporting our efforts.