During October 2010, watch brand RumbaTime will host its 1st Annual Celebrity Breast Cancer Charity Auction, donating 100% of the proceeds to The Breast Cancer Research Foundation.
Celebrities including Kourtney Kardashian, Vanessa Hudgens, Rachel Zoe, Lisa Rinna, Laila Ali, Faith Evans, Maria Menounos, Ashlan Gorse and Gretchen Rossi have all lent their signature to help raise money and awareness for breast cancer research.
Each celebrity signed a pink RumbaTime VanDam watch which will be auctioned off online at eBay.com. The first auction began on Monday, October 11, 2010 at 5pm (EST) and features the autographed pink VanDams which will be available for bidding for 10 days after post date.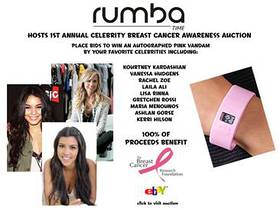 Beginning in August, RumaTime joined forces with The Breast Cancer Research Foundation's SHOP PINK for Prevention and a Cure Campaign and has donated proceeds of its Original Collection Heart Throb watch generated through online sales.