On Saturday, October 16, 2010, not even gray skies could dampen the spirits of over 600 Hollywood celebrities and enthused Angelenos who came out to support the Habitat For Humanity San Fernando/Santa Clarita's fundraising 5K walk and home-build "American Dream Walk."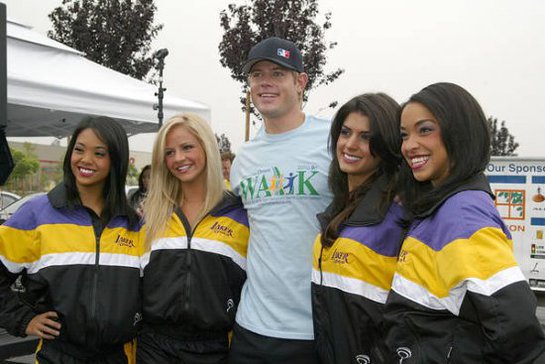 Converging at the Pacoima Plaza, Habitat walkers were treated to a morning kick-off rally emceed by Trevor Donovan, actor on hit series "90210" and avid Habitat supporter, a musical performance by Mark Ballas, professional dancer on "Dancing with the Stars", and a warm-up stretch routine led by The Laker Girls and Rusty Joiner, actor and fitness model.
Other stars in attendance included Austin Anderson, Kate Linder, Ariel Winter, Erik Fellows, Bristol Palin, Nolan Gould and many more.
At the Habitat Pacoima Site, celebrities and community members joined together to raise the wooden framework of Habitat's newest home, as well as participated in a landscape relay to beautify the housing complex.
Wayne Colmer, Chairman of the Habitat SF/SCV affiliate, thanked the crowd for their support in helping to build futures for Pacoima's families and for making "our world a better, safer place to live – especially for children." Lynne Jacobs, Director of the California Department of Housing and Community Development, then awarded Habitat SF/SCV with a $720,000 check, an impressive amount which now allows Habitat to begin work on their next development project in Pacoima – a 12-home build to commence immediately upon completion of the current 61-home build.
In addition to providing affordable homes with 0% mortgages for low-income families, Habitat for Humanity SF/SCV also empowers families to build strong, supportive communities. "The Habitat Enriched Neighborhood model brings in services and education that promote self sufficiency. Our communities are built around a model that requires sweat equity and provides supportive services, going well beyond traditional affordable housing," Colmer explained. An example of how Habitat helps to foster and strengthen cooperation among families is the introduction of a community garden; it has been shown that families who work together on gardens tend to work together on other things, such as helping children stay in school.
As a result, Habitat SF/SCV reports 100% graduation rates, 0% foreclosure rates, 92% of teens enrolled in college or trade school, and drastically reduced teen pregnancy rates. The Habitat Pacoima project consists of 61 homes, with 37 already occupied and the rest completed by summer 2011.