Prince Harry attended the opening of The Royal British Legion Wootton Bassett Field of Remembrance this week, the first Field of Remembrance dedicated to those who have been killed in Afghanistan.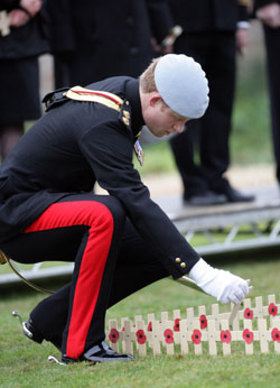 Up to 35,000 crosses will be planted within the grounds of Lydiard Park, near to the town of Wootton Bassett, each with a personal message from members of the public in order to commemorate the 342 men and women killed in Afghanistan since the conflict began in 2001.
The Prince planted a Remembrance Cross in the Field and took part in a Two Minute Silence ceremony. He also met Service personnel taking part in The Royal British Legion March For Honour before setting them off on their march to London. Finally, Prince Harry met local schoolchildren before joining a private reception.
"The Field of Remembrance is an important part of the Legion's Remembrance calendar of events. We encourage the nation to dedicate personal messages to those who sadly haven't returned home. We are extremely honoured to have Prince Harry dedicate his own cross and take part in the ceremony," said Sir John Kiszely KCB MC, National President of The Royal British Legion.
Anne Bevis, Repatriation Officer for The Royal British Legion said: "It will mean a lot to the people of Wootton Bassett and Wiltshire to know that there is a Field of Remembrance solely dedicated to those men and women in the British Armed Forces who have lost their lives in Afghanistan. This is the first of its kind, and we're very proud."