Queen guitarist Brian May will take to the stage with singer Kelly Ellis for a special charity concert at the Royal Albert Hall on May 1, 2011.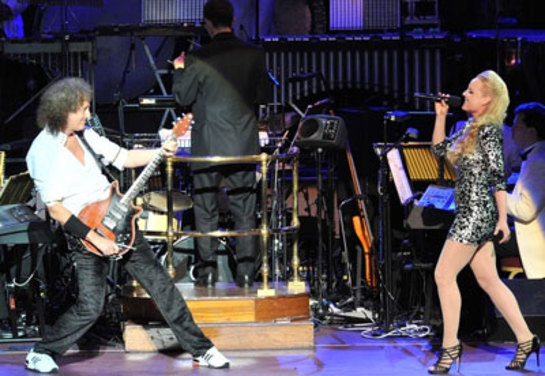 The pair will perform their new album, Anthems, during the show to benefit Leukaemia and Lymphoma Research. The show will also feature the City of London Philharmonic, The Anthems Ensemble and The West End Chorus.
Kerry Ellis has performed as Elphaba in Wicked, Fantine in Les Misérables, Ellen in Miss Saigon, Svetlana in Chess and Meat in We Will Rock You. She is currently playing Nancy in Oliver at the Theatre Royal, London. The great Queen guitarist and composer Brian May will perform new arrangements of a selection of the favourite songs he has specially chosen to be performed by Kerry. He will accompany her on guitar and vocals.
Leukaemia Research is devoted exclusively to leukaemia, the lymphomas, myeloma, aplastic anaemia, myelodysplasia, the myeloproliferative disorders and the related blood disorders in both children and adults. It aims to support doctors and scientists at hospitals and academic institutions throughout the UK, and funds a wide range of projects from basic laboratory research to clinical trials with patients.
Find out more about the event here.