A new tongue-in-cheek Walkers advert burst on to UK screens on 4th February, previewing a forthcoming "clash of the comics" for this year's Comic Relief.
The ad catches behind-the-scenes footage of Gary Lineker and four of Britain's best-loved comedians as they prepare to launch their limited edition crisp flavours – Stephen Fry & Stephen Fry Up, Frank Skinner & Frank Roast Dinner, Jimmy Carr & Jimmy con Carrne and Al Murray & Steak and Al Pie.
The mischievous comedians show it will be every man for himself, as they bid to make their flavour the bestseller and raise over £1million for Comic Relief's Red Nose Day. The question is, who will sink and who will swim in the 'Clash of the Comics'?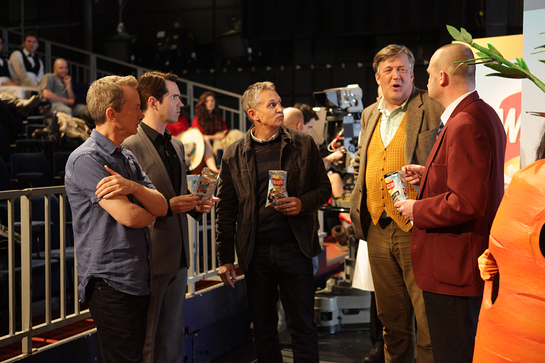 The advert opens with the comedians and Gary Lineker in a studio preparing for a photoshoot and behind-the-scenes interviews. The scene bustles with outrageously dressed extras, giant props being put into place and busy crew members preparing the set for the shoot. As Gary Lineker's voice introduces the comedians and their flavours, the comedians are seen expressing to the camera their pleasure in working with each other and the importance of raising money for charity over beating their fellow comics.
However, the mood soon turns when the cheeky comedians begin to sabotage each other's costumes, mock their fellow contestants and 'accidentally' topple a mountain of pies carefully arranged for Al Murray's photo-shoot! The mischief continues, as a Steak & Al cow appears in Stephen's dressing room and we see Frank Skinner make his debut as a giant chicken! The hilarious advert comes to a close with the four comedians preparing for a group shot with Gary, who spills the beans about the hair-raising forfeit which the losers' will face. At this point it is clear that war has been declared in the Clash of the Comics.
Gary Lineker said "Making this advert was great fun – as I'm sure you can imagine with this competitive bunch! There was a lot of taking the mickey out of each other and fighting spirit. They'll have us all on the edge of our seats as they battle to make their flavour the bestseller; what better motivation than raising money for a brilliant cause."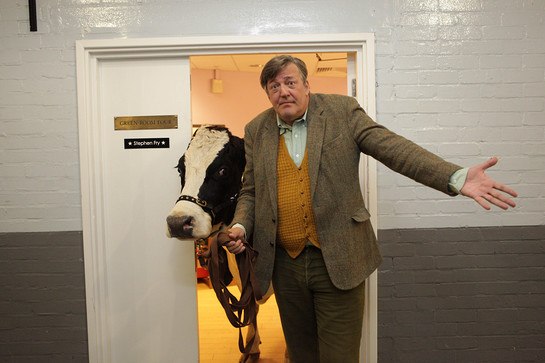 Stephen Fry said "This advert showcases the true nature of these comedians. They are all so competitive. I find it rather disappointing. Guess it's because they know they are going to lose."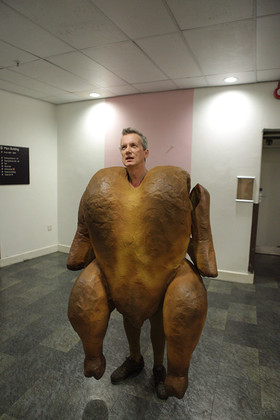 Frank Skinner said "I think my highlight was when I was standing on set in an enormous roast chicken outfit and the director said to me 'can we try it a bit more naturalistic?'."
Jimmy Carr said "I was the only comedian to behave with any dignity on this ad shoot – I did not spray-paint, eat or rip anybody's costume, or topple any pie-mountains. OK – so I may have had a small dig at Frank, but honestly I'd never stoop that low…!"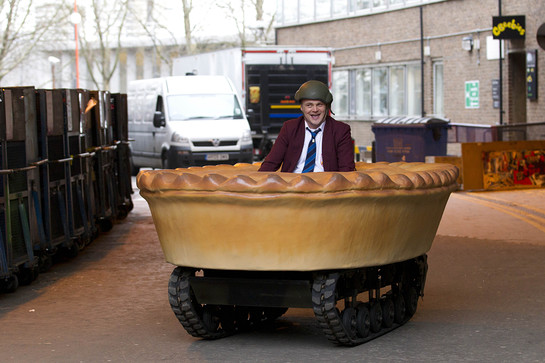 Al Murray The Pub Landlord said "The look on Stephen Fry's face when he saw the cow I'd put in the dressing room was priceless – it doesn't matter how many facts he might know, a cow pat in your dressing room means it's war!"
Miranda Sambles, Marketing Director for Walkers, said "This advert really plays on the personalities of the comedians, and it pays tribute to the essence of Comic Relief, which is all about having a laugh to raise money for charity. We are thrilled that these four British comics could join Gary to launch this campaign with such a hilarious advert."
Each comedian will fight to win the hearts of the British public and raise money for Comic Relief's Red Nose Day in a bid to make their flavour the bestseller, and to reign above their fellow funny-men! For every special flavour single pack sold Walkers will donate 5p to Comic Relief and the comedian whose flavour raises the most will win. The losing three will face the torturous forfeit of being waxed in front of their peers and the public; with a mystery 'beautician' on hand to ensure the penalty runs as smoothly as possible! The triumphant winner will be announced on Red Nose Day on 18th March. Special Packs are in store now.
Watch the ad here.