Kim Kardashian's ShoeDazzle continues its "Celebrity Shoe Design Program for Charity" with another fashion-forward, altruistic celebrity, Jenny McCarthy.
The comedian, actress, author and mother designed a special studded pump, which she appropriately named "Fearless." All of the profits from the sale of the shoe will benefit Generation Rescue, an organization dedicated to recovery for children with autism spectrum disorders by providing guidance and support for medical treatment to directly improve the child's quality of life for all families in need.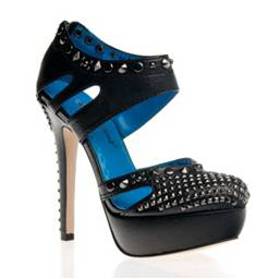 The finished product will be available on April 21st in honor of Autism Awareness Month, exclusively at ShoeDazzle.com. It is a sexy and edgy black studded pump with a vibrant blue foot bed.
Jenny McCarthy has been a devoted advocate for autism awareness and treatment since her son, Evan, was diagnosed in 2005. She serves as the President of Generation Rescue, has written a book, and dedicates her time to traveling the country to promote the cause.
"We all need to be fearless in our lives – whether it's standing up for a meaningful cause or just being bold in our fashion choices," says McCarthy. "I really enjoyed partnering with ShoeDazzle to create this fun, 'Fearless' pump, and I think its 'Celebrity Shoe Design Program for Charity' is a very creative way to raise funds for charity."
"Jenny's efforts to promote autism awareness have really inspired us," said Deborah Benton, Chief Operating Officer, ShoeDazzle. "We are honored to once again pair fashion with charity to help such an amazing cause."
In addition to donating 100% of the profits from the sale of the shoe to Generation Rescue, with Jenny's participation, ShoeDazzle introduces an additional donation component – for each new client that joins ShoeDazzle using the special code "JENNY," ShoeDazzle will make an additional donation of $5 to Generation Rescue between April 1 and May 10th.
Prior to McCarthy's shoe release, ShoeDazzle partnered with singer Mel B and actresses Kristen Bell and Kristin Chenoweth for their "Celebrity Shoe Design Program for Charity." The company launched its first cause-marketing campaign in Fall 2009, offering a pink pump benefiting Susan G. Komen for the Cure during Breast Cancer Awareness Month. This year, in other cause related products, ShoeDazzle designed a special red pump and clutch to support WomenHeart and raise awareness for American Heart Month as well as accessories benefiting breast cancer awareness.