In the run up to Mother's Day in the UK on Sunday, UNICEF ran a campaign with Ewan McGregor and Cat Deeley to help save the lives of 1,000 mums.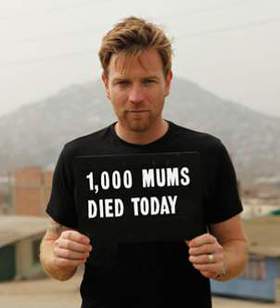 As UNICEF Ambassadors, Cat and Ewan called on people across the UK to make a difference to the lives of 1,000 mums, by buying their mum a UNICEF Deliver a Baby gift pack for Mother's Day.
UNICEF aimed to sell 1,000 life-saving packs by Sunday, to highlight the number of women who will die on that day, and everyday, due to complications in pregnancy and childbirth. At just £23, the gift contains all the medical equipment needed to safely deliver a baby.
Although great progress has been made in reducing maternal mortality, childbirth remains one of the leading causes of death amongst women in the developing world. Due to a lack of access to basic medical care and support, often stemming from poverty, nearly 1,000 mums die each and everyday as a result of pregnancy-related complications.
UNICEF UK Ambassador Ewan McGregor said: "This Mothers' Day I'll be showing my mum just how much she means to me by buying her a gift with a difference – one that will give another mother and her newborn child the chance of a future together."
"On the day when I celebrate and spoil my mum, and thank her for the love, care and support she has given me, nearly 1,000 other mums will see their lives slip away from them because they can't access the most basic medical care," added Cat Deely. "By buying a gift, you could save the life of a vulnerable mother in one of the most fragile communities in the world."
Find out more here.