Downtown LA saw some of Hollywood's finest at the 22nd Annual GLAAD Media Awards at the Westin Bonaventure this week.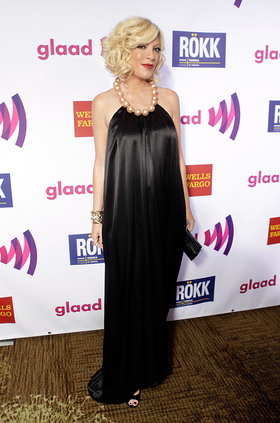 Tori Spelling
The GLAAD Media Awards recognize and honor media for their fair, accurate and inclusive representations of the lesbian, gay, bisexual and transgender (LGBT) community and the issues that affect their lives. The GLAAD Media Awards also fund GLAAD's work to amplify stories of LGBT people and issues that build support for equality.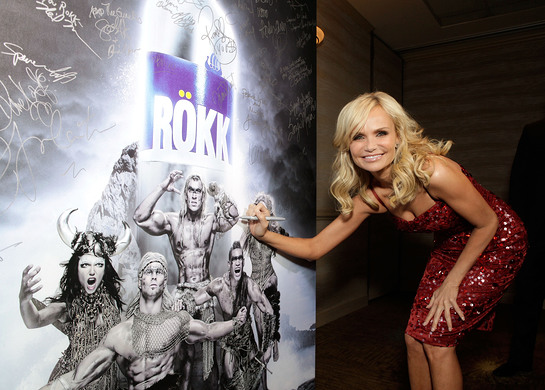 Kristin Chenoweth
Celebrity attendees, including GLAAD honorees Kristin Chenoweth and Robert Greenblatt, strutted down the ROKK blue carpet and were treated to an evening filled with delicious ROKK Vodka cocktails; hilarious commentary from hosts Amy Poehler and Rashida Jones; and a surprise performance of 9 to 5 from the legendary Dolly Parton.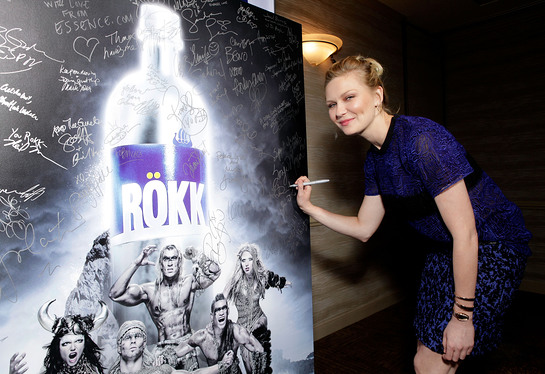 Kirsten Dunst
Keeping in the same spirit of the New York show, ROKK pledged to donate $100 to GLAAD for every "ROKK" said during the show. LA truly rocked it out, raising an additional $12,500 for the organization.
Celebrity attendees were also encouraged to sign a one-of-a-kind RÖKK photograph created by celebrity photographer Mike Ruiz. Tori Spelling, Meat Loaf, Kristin Chenoweth, Kirsten Dunst and many others joined the likes of Russell Simmons, Ricky Martin, and Denis O'Hare in signing the artwork (which will be contributed to GLAAD's OutAuction next fall).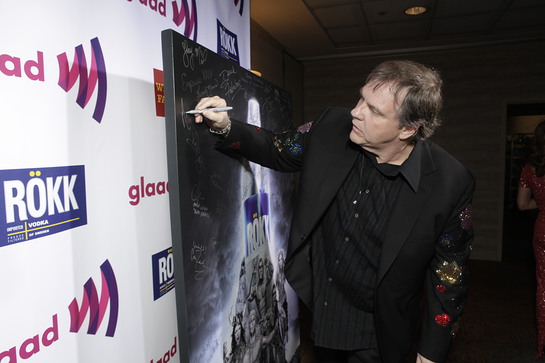 Meat Loaf
Sean Hayes presented the Vanguard Award to Emmy and Tony Award-winning singer and actress Kristin Chenoweth, who has spoken out repeatedly for full equality for LGBT people. In 2010, Chenoweth publically challenged a controversial Newsweek article which incorrectly asserted that gay actors cannot play straight roles. The Vanguard Award is presented to individuals who, through their work, have increased the visibility and understanding of the LGBT community in the media.
"I want to encourage many people of all faiths to come forward and stand with me," Chenoweth said in her remarks. "Even if you don't believe in Jesus the way I do, he did teach love — not just tolerance, but acceptance. I'm lucky I had parents who adopted me at birth, conservative Southern Baptists who said, 'You will love everyone the same'…Mostly I would like to thank GLAAD for this amazing, amazing honor. This is the biggest honor I have ever received."
It was a tie in the Outstanding Comedy Series category, with both Fox's Glee and ABC's Modern Family taking home the award. Chris Colfer and Mike O'Malley accepted the award on behalf of Glee, while Jesse Tyler Ferguson, Julie Bowen and Ariel Winter accepted for Modern Family. Season eight contestants Mondo Guerra and Michael Costello, along with producer Jonathan Murray, accepted the award on behalf of Project Runway which received the nod for Outstanding Reality Program. The award for Outstanding TV Journalism Segment was accepted by MSNBC host Lawrence O'Donnell, Fort Worth, Texas City Councilmember Joel Burns and his husband, J.D. Angle, for their interview on The Last Word with Lawrence O'Donnell.
Kirsten Dunst presented a Special Recognition award to Bianca "Nikki" Peet, a 17-year-old student from Corpus Christi, Texas, for her efforts to organize a Gay-Straight Alliance at her high school after her principal originally prohibited the group. GLAAD also announced that I Love You Phillip Morris received the award for Outstanding Film – Limited Release.
Chaz Bono announced GLAAD's "Amplify Your Voice!" public service announcement campaign to combat anti-LGBT bullying. With the help of the American Federation of Teachers (AFT) and Jonathan Murray, creator of MTV's The Real World, GLAAD is producing LGBT resource kits for schools across the country as well as PSA videos featuring a range of celebrities. It was also announced that Comcast will serve as a leading media partner for the campaign, contributing $3 million in national airtime and bringing this important message to more than 20 million homes this fall.