In support of the U.S. Fund for UNICEF's Child Survival Programs, Ambassador Alyssa Milano has launched babybugliari.org to allow fans, friends and family to raise funds in lieu of giving gifts for the upcoming birth of her baby boy.
All funds raised will assist UNICEF in its efforts to reach children with the greatest needs around the globe.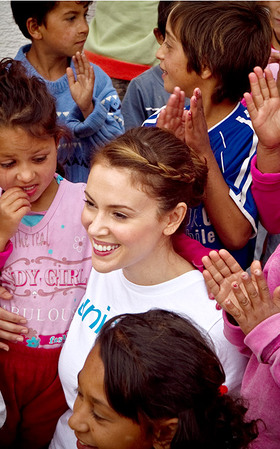 "I'm overwhelmed with the outpouring of support for the birth of my child and wanted to find a way to help mothers and children who face a very different reality than I do," said Alyssa. "With every $5 donation, UNICEF can provide assistance to children in developing countries so they can grow to be healthy, happy and strong – which is exactly what we want for our child."
When people visit babybugliari.org, they can click the "donate" button to be directed to UNICEF's donation form online. People can use this form to make a secure, tax-deductible online donation to support the U.S. Fund for UNICEF's Child Survival Programs worldwide. If preferred, people can print the form and send donations by mail, or call 1.800.FOR.KIDS (1.800.367.5437) to donate by phone.
Funds raised will enable UNICEF to reach as many children as possible with effective, low-cost solutions. In many impoverished countries, childbirth still carries a high level of risk. For instance, newborn babies and mothers continue to die from maternal neonatal tetanus, a disease that can easily be prevented through a round of immunizations that costs as little as $1.80.
Other UNICEF activities that help expectant mothers and their children include:
Providing a comprehensive package of health and nutrition services;
Preventing mother-to-child transmission of

HIV

and offering antiretroviral
treatment for

HIV

positive women and their babies;
Distributing insecticide treated mosquito nets and oral rehydration salts;
Providing access to improved water and sanitation, and helping communities
adopt improved hygiene practices, especially during childbirth. Clean water
for hygiene and drinking is essential for safe delivery;
Improving access to skilled health personnel at delivery.