Dave "Phoenix" Farrell, a member of the two-time Grammy winning, multiplatinum band Linkin Park, returned from a trip to Haiti yesterday with the United Nations Foundation to see firsthand how the United Nations is helping Haiti rebuild, fifteen months after a major earthquake killed hundreds of thousands and destroyed much of the nation's infrastructure.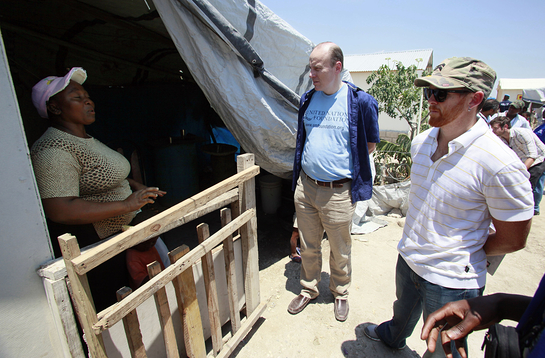 Photo: Dave "Phoenix" Farrell, right, and Peter Yeo, UN Foundation vice-president for Public Policy, left, speak to a woman who lives at a camp for displaced persons outside of Port au Prince, Haiti, Wednesday, April 13, 2011. More than 650,000 Haitians remain displaced since the January 12, 2010 earthquake. (Stuart Ramson/UN Foundation)
Among the many hardships facing Haitian women is the threat of sexual violence and intimidation. While in Haiti, Phoenix met with UN staff and Haitians to learn how something as simple as solar street lights are protecting women and children from violence at night in the camps, and how their charity Music for Relief has already helped to protect thousands.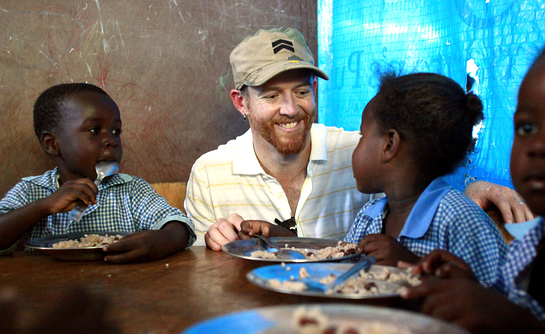 Photo:Dave "Phoenix" Farrell joins first graders at a school in Port au Prince which participates in a World Food Program school lunch initiative, Haiti, Wednesday, April 13, 2011. (Stuart Ramson/UN Foundation)
"Haiti may have fallen from the headlines, but the country still needs our help," says Linkin Park's bassist Phoenix. "We can't forget about the suffering that is still going on in Haiti. After meeting UN staff and Haitian families, I urge all of our fans to donate through Music For Relief's Download to Donate for Haiti. It is an easy way for fans to stay engaged and together we can help the UN light the future for Haiti's women and girls."
"The UN and its partners, including the U.S. government, have helped Haitians make significant progress and we can be proud of the work the UN has done," said UN Foundation's Vice President for Public Policy and Better World Campaign Executive Director Peter Yeo, who accompanied Phoenix on the trip. "This trip reminded me how important it is to keep Haiti's women and girls at the top of the international agenda. Something as simple as a lighted pathway can make a huge difference for a woman trying to survive the night without fear of violence. We all have a role to play in helping the UN help Haiti and everyone can make a difference."
Over the past months, 200 cost-efficient, environmentally friendly and durable LED streetlights have been installed by the UN's Population Fund with the guidance of Haitian women. The lamps, provided with support from the UN Foundation, Music for Relief, and USAID, are already leading to a reduction of violent incidents. In addition, regular patrols by the United Nations Stabilization Mission in Haiti (MINUSTAH) and the Haitian police are helping to reign in crime.
Music fans are encouraged to Download to Donate (or text "RELIEF" to 90999) and make a $10 donation as part of Linkin Park's charity Music for Relief. In return, supporters gain access to a digital album featuring unreleased tracks by a growing number of artists, including Alanis Morissette, Glitch Mob, Crystal Method, Slash, and the original song by Linkin Park, Not Alone. Since it's inauguration in 2005, the charity has raised more than $3.9 million for victims of natural disasters around the world, including Hurricane Katrina, monsoon flooding in Pakistan, and the tsunami in Japan. Since the earthquake, Download to Donate for Haiti has raised more than $270,000 supporting the work of five organizations in Haiti including the UN Foundation.