Rally your community now to join the Pencils of Promise (PoP) Movement, and you can bring Justin Bieber and PoP Founder Adam Braun to YOUR school!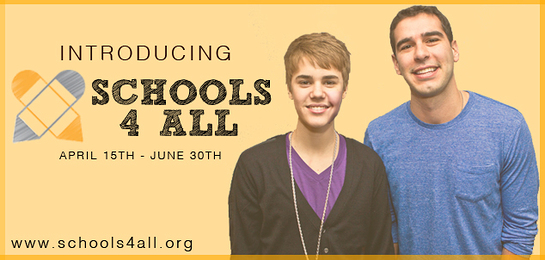 Introducing Schools 4 All, a fundraising challenge to raise money and help Pencils of Promise build schools and provide basic education to the 75 million children across the world who don't have it.
The challenge runs from April 15th to June 30th. The top fundraiser wins a visit from Justin Bieber and PoP Founder Adam Braun to a school of their choice. Participants will also have the chance to win flights to Guatemala to visit the PoP team, among other prizes.
Everyone is invited to create an online fundraising page, rally their community, and raise money to help PoP provide Schools 4 All!
Bieber has been involved in a number of fundraising initiatives for PoP in the last year, including donating $1 from every ticket on his My World tour to the charity. His fans raised enough cash to build 20 schools for underprivileged children, prompting DoSomething.org to include Bieber in their list of the top 20 Celebs Gone Good for 2010. Earlier this year, Bieber raised thousands of dollars for the charity when he donated them a lock of his hair for auction.
Don't wait. Join the movement at www.schools4all.org today!