By Delinda Lombardo on
LookToTheStars.org's Special Correspondent, Delinda Lombardo, attended the 2011 NALIP Dinner Gala this weekend and filed this exclusive report.
Actress Sofia Vergara ("Modern Family") and Nobel Peace Prize nominee Governor Bill Richardson were honored at the 2011 NALIP Dinner Gala Saturday night at the Island Hotel in Newport Beach.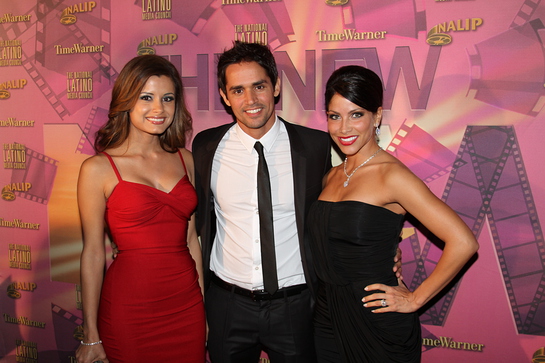 Catalina Rodriguez,Luis Lopez, Valery Ortiz
NALIP (National Association of Latino Independent Producers) is a national nonprofit 501c3 arts organization that works to increase the quality and quantity of images by and about Latino/as in film and television. The event attracted prominent Latino filmmakers from across the globe who came together for the 12th annual NALIP gathering chaired by Rudy Beserra, Vice President of Latin Affairs for the Coca Cola Company. This year's national conference, "The New Now: Defining the Future Together," examined how bi-cultural, bi-lingual Latinos are connecting with and creating mainstream media.
The event culminated in a dinner gala where Vergara ("Modern Family") was presented with the Outstanding Achievement Award for her tireless work at creating positive Latina images, especially in regards to 21st century families that include Latino characters and culture.
Also, Nobel Peace Prize nominee Gov. Bill Richardson was presented the NALIP Lifetime Achievement in Advocacy Award for dedicating his life to public service, his tireless work at creating change and improving the world, and investing in renewable energy, among others.
"We created the opening to bring the entertainment industry to our community," he said prior to the event. "New Mexico now has the largest trained crew base in the country outside of California and New York, strengthening our economy and providing jobs and skills for the residents of our state. As importantly, our commitment to our filmmakers, and particularly Latino filmmakers, actors, writers and other talent, has strengthened the voice of the people — a voice too often pigeonholed or marginalized in mainstream media. I am proud to have played a role in that changing circumstance, and remain committed to building a strong foundation for the state¹s film industry and for Latino film and television globally."

NALIP's support from celebrities, honorees and speakers included:
Wilmer Valderrama, Francisco Bello (Salim Baba), Sundance World Audience Award winner Javier Fuentes-Leon (Undertow), Nicholas Gonzalez ("Off the Map"), Jason George ("Off the Map"), Josefina López (Real Women Have Curves), Yance Arias (América), Rosa Blasi ("Make It Or Break It"), Jason Manuel Olazabal ("Make It Or Break It"), Emilio Rivera ("The Sons of Anarchy"), Lisa Vidal ("The Event"), Yareli Arizmendi (Like Water for Chocolate), Jeremy Ray Valdez (La Mission), Valerey M. Ortiz ("America Latino"), Catalina Rodriguez ("Cougars, Inc."), Luis Lopez (Beyond the Blackboard) and Joe Hernandez-Kolski (HBO Def Poet Gerry Lopez (CEO and President, AMC Theatres).
Look to the Stars is thrilled to support the efforts of NALIP and enjoyed speaking with many influential and inspiring celebrities during the dinner gala Saturday night.
Actor Nicholas Gonzalez spoke to us about the importance of NALIP:
"NALIP is amazing not only for what they do for up and coming actors – providing the tools etc – but by bringing together successful business people and those who are completely new. I've always admired this about them, it's something necessary, and there is so much provided here – so much support for one another."
Gonzalez is also extremely humble, especially when involved with charity work. He has been a long time supporter of Friends of El Faro, an organization that helps needy kids and families in Tijuana.
"We're actually going down to the orphanage next week", he told me, "But we don't do it for PR, we do it because we love these kids, they are amazing and it's an incredible experience."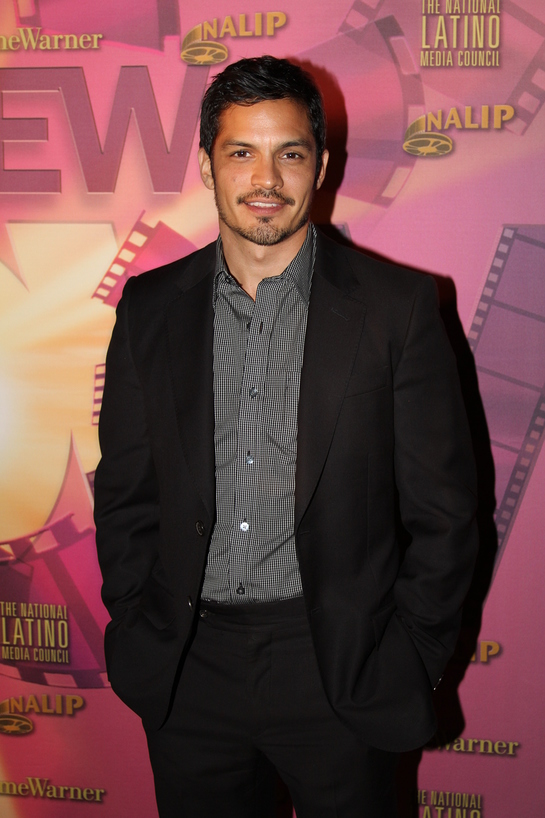 Nicholas Gonzalez
Actor Luis Lopez, who can be seen in the 'Hallmark Hall of Fame' film 'Beyond the Blackboard' which is about a first-time teacher who takes a position teaching homeless children in a shelter's makeshift classroom, (premiering Sunday April 24 on CBS), has quite an impressive resume. He's getting ready to start shooting a new film which is set in the Dominican Republic, which is a follow up to a film he did last year, 'Playball', where he was nominated with a Dominican Academy Award for lead actor. The clincher? He has a soft spot for kids, is a certified personal trainer and has quite a knowledge about nutrition which – coupled with his celebrity status – he is using it to support After-School All-Stars Los Angeles:
"On the 26th, I'm going to speak in front of middle school kids involved in the arts about nutrition, getting healthy, and staying healthy. I really want to be involved, to help, because as we both know, the obesity numbers have sky-rocketed, so I'm hoping I can make an impact when I go speak with these kids."
Another impact maker is Valery Ortiz. Valery's first big break came hosting the "anything goes" kids show SPLAT! on Nickelodeon. Her work includes a role in 'Date Movie,' 'Two and A Half Men' and has recently replaced Daisy Fuentes in the nationally syndicated show, 'American Latino.'
The stunning actress spoke to us about the importance of NALIP: "I think NALIP in general is important, everything they've done, the opportunities they give Latino's, independent producers, actors, everybody behind the camera, it's the opportunity for us to get our story out there, our vision and helping each other out."
The busy actress, who just finished filming Season 3 of the award winning online series, 'Diary of A Single Mom,' also finds time to give back to her favorite charities.
"One of my favorite charities is Eva Longoria's. It's an amazing charity that works with young kids with sickness and disabilities, it's a great opportunity to start small and inspire young kids, to let them know that no matter what is going on in your life-health wise, family wise- no matter the situation, you keep going and keep following your dreams. I just love her charity."
Ortiz also loves to use her celebrity for good causes. Recently, Ortiz joined hostess Natasha Henstridge, Vivica A. Fox, Illeana Douglas, Janice Dickinson, Bai Ling, Yolanda Adams and numerous other celebrity models in the acclaimed Lloyd Klein fashion show that benefited Sheila E.'s Elevate Hope Foundation.
Actress Catalina Rodriguez also spoke to us about her career and the NALIP community:
"I'm in a new film called 'Cougars, Inc' and I'm one of the Cougars," she said, "It's really a romantic comedy about women trying to hold onto being young again and then younger kids trying to be old. I play kinda the eccentric Latina woman – similar to Sofia's (Vergara) character on 'Modern Family' – very loud and beautiful. It was great because I was the only Latin person in the film, so that was a big honor."
As a former model, she also supports a number of charities including After School All Stars Los Angeles, where she is planning to speak to the kids studying fashion in hopes of inspiring them.
Look to the Stars would like to thank Lindsey Rowe from Norm Marshall and Associates; Sofia Vergara; and Gov. Richardson for their amazing contributions, as well as everyone who took the time to share their inspiring stories with us.

More info available at NALIP.
Photos: Lindsey Rowe