UNICEF Goodwill Ambassadors Mia Farrow and Angélique Kidjo have been separately honored for their humanitarian work and commitment to the cause of children with three prestigious awards this week.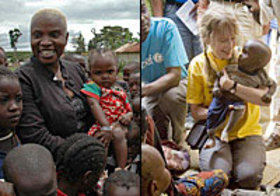 Mia Farrow, actress and activist, received the 2011 Marian Anderson award yesterday in recognition of her humanitarian efforts on behalf of children and women in countries affected by conflict and violence, including Chad, Darfur and Haiti.
Yesterday, the Holocaust Museum in Houston bestowed Farrow with its 2011 Lyndon Baines Johnson Moral Courage Award for her humanitarian work. The award highlighted her efforts in support of the people in Darfur, and women and children in other parts of Africa whose lives have been affected by war, violence and easily preventable diseases such as polio.
Also yesterday, Kidjo, who was born in Benin, is being conferred the insignia of the Ordre des Arts et des Lettres, one of France's top cultural honors, at the New York cultural-services office of the French Embassy to the United States. The award recognizes her efforts to make the world a better place for children and families.
Both Farrow and Kidjo are tireless advocates for the rights of children, especially the most vulnerable and neglected.
Farrow, a UNICEF Goodwill Ambassador for over a decade, has travelled widely for the organization, including trips to Angola, Cameroon, Chad, Central African Republic, the Democratic Republic of the Congo, Guinea, Haiti, Israel, Nigeria, the Occupied Palestinian Territory, Sudan and Uganda. Her special concern if for children affected by conflict.
Kidjo was appointed a UNICEF Goodwill Ambassador in 2002. She is a passionate advocate for girls' education and has made that issue a focus of her activities. Her travels for UNICEF have taken her to a range of countries, such as Benin, Ethiopia, Haiti, Senegal, South Africa, the Syrian Arab Republic, Zimbabwe, Tanzania and Uganda.
Photos:© UNICEF/2006-2010/Bonn/Holt
Source: UNICEF