On Saturday night, GLAAD honored the media's most outstanding images of the LGBT community at the GLAAD Media Awards in San Francisco, presented nationally by ROKK Vodka and locally by Southwest Airlines. Advocates, allies and celebrities joined host Naya Rivera (Glee) at the San Francisco Marriott Marquis to celebrate the people and stories that are moving Americans toward equality for all.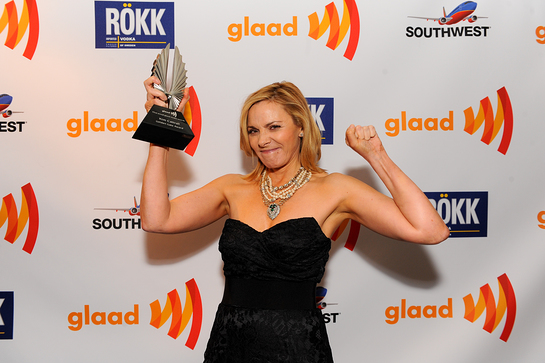 Kim Cattrall at GLAAD Media Awards
Golden Globe-winning actress Kim Cattrall was honored with the Golden Gate Award in recognition of her vocal support for the LGBT community. As Samantha Jones on HBO's "Sex and the City," Cattrall became a pop-culture icon who showed fans across the world that there's nothing wrong with being who you are – especially when it comes to love. "Sex and the City" broke barriers for LGBT actors, characters and storylines, and Cattrall brought brilliant life and nuance to Samantha's lesbian relationship with her girlfriend Maria – one of the few relationships Samantha took seriously. Additionally, Cattrall has spoken out publicly in support of marriage equality, and was featured on the cover of The Advocate in May 2008.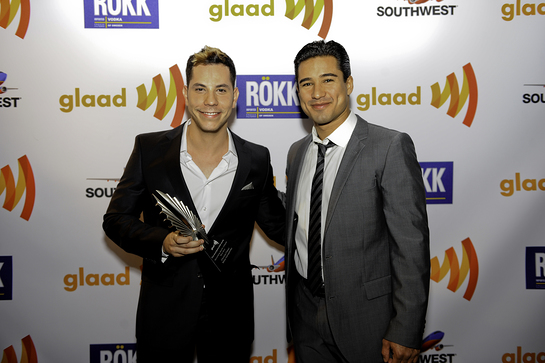 Christian Chaves and Mario Lopez at GLAAD Media Awards
Additionally, tech writer Kara Swisher was honored with the Local Hero Award in recognition of her work to raise awareness about LGBT lives and issues, and AT&T was honored with the Corporate Leader Award in recognition of its long-standing and public commitment to LGBT employees and consumers.
Other winners included Focus Features' "The Kids Are All Right" (accepted by writer/director Lisa Cholodenko), "8: The Mormon Proposition" (accepted by Academy Award-winner Dustin Lance Black) and Spanish-language recording artist Christian Chávez.
There were surprise appearances from Sara Ramirez (Grey's Anatomy), Mario Lopez (Extra), Yigit Pura (Top Chef: Just Desserts), Louis Van Amstel (Dancing with the Stars), and many more.
In addition to providing the means for a celebratory evening, ROKK encouraged presenters and award winners to incorporate "ROKK" into their speeches as part of the "I Wanna ROKK" campaign. For every "ROKK" said during the show, ROKK pledged to donate $100 to GLAAD and the brand is proud to announce that $7,500 was raised on the night! Celebrity attendees were also encouraged to sign a one-of-a-kind RÖKK photograph created by celebrity photographer Mike Ruiz. The unique piece of art – complete with all signatures from the three award shows including Ricky Martin, Kristin Chenoweth, Russell Simmons and more – will be donated to GLAAD as a contribution to the organization's 2011 OUTAuction.
Previous events were held in Los Angeles and New York, where GLAAD honored Ricky Martin, Kristin Chenoweth, Russell Simmons, Robert Greenblatt, "30 Rock," "Glee," "Modern Family" and "True Blood" among others.
Source: GLAAD