The characters from Sesame Street are set to visit Guam and South Korea next month as part of their special USO tour to help US military families deal with the challenges of deployment and homecomings.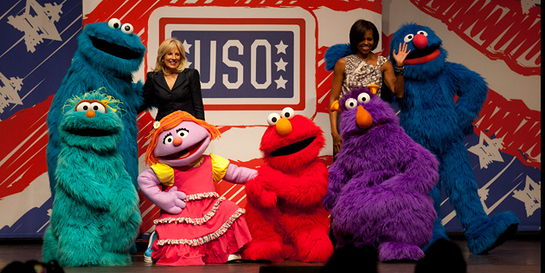 The tour kicked off in Columbus, Ohio, in April at a special event featuring Michelle Obama, and has already toured Alaska and Hawaii.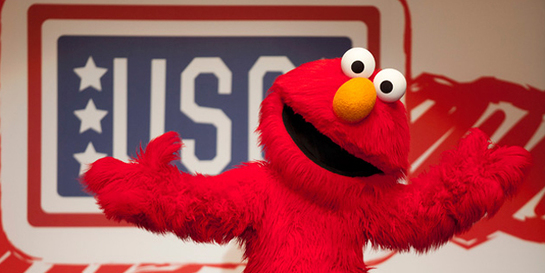 Audiences at the shows will meet a new character named Katie – a military child relocating to a new home. With the help of Elmo and other Sesame pals, Katie opens up about her fears and excitement as she deals with change and making new friends. The new show features a 25-minute high-energy character performance with special giveaways and vital outreach materials for those who attend.
"Sesame Workshop is proud to be able to bring such an invaluable resource to military families around the world," said Gary E. Knell, Sesame Workshop CEO and President. "Our latest show kicks off with a new character, a child who is adjusting to a move to a new location, something many of us can relate to. We are thrilled that the First Lady and Dr. Biden have chosen to highlight and promote our efforts to military families as we begin the next phase in our program."
"There is nothing that gives the USO more joy than making the lives of military families a little easier and lightening their load," said Sloan Gibson, USO President. "Relocating to a new place can be difficult for everyone, but especially for military families with young children. That is why this tour is SO important and why we proudly stand beside Sesame Workshop to deliver a show that is entertaining and helpful to the children of those who serve."
Since the tour's inception four years ago, The Sesame Street/USO Experience for Military Families has logged more than 61,200 miles to 90 bases in 33 different states and nine countries. The tour has also performed 315 shows for more than 192,600 service members and their families. This phase of the tour will perform in Alaska, Hawaii, Guam, Korea, Turkey, Italy, Germany, the Netherlands, Belgium, the United Kingdom and Spain.
Find out more here.