Last week, UNICEF UK and Children In Crisis auctioned Princess Beatrice's wonderful wedding hat on eBay, and raised an incredible £81,100. This week, UNICEF has a brand new hat to grab your attention. A bespoke bonnet designed by Filipina milliner Mich Dulce has been put up for auction by UNICEF Phillipines, signed in gold pen by internationally renowned pop star and highwayman Adam Ant.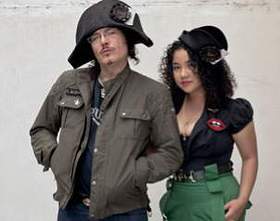 The hat will be auctioned live on eBay until June 4. Proceeds from the sale will go to UNICEF Phillipines and their important work with disadvantaged children.
Designer Mich Dulce is well-known in the Phillipines and appeared as a housemate in Filipino version of Celebrity Big Brother in 2006. She is also an actress and vocalist in the band Us-2 Evil-0.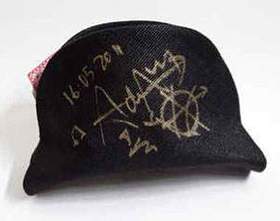 The hat, pictured right, is a version of the design Dulce produced for Adam Ant's current concert tour, "The Good, The Mad and The Lovely."
The auction winner will also be delivered a handwritten note from both Dulce and Ant, a signed poster, and a plectrum used by Ant at the 100 Club venue in London.
Want to join the auction? Click here.