Britian's top tennis player Andy Murray has signed a rare piece of art and donated it to the next Tickets For Troops fundraising auction.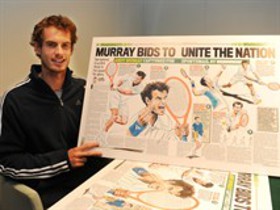 The brilliant set of drawings by top artist John Trevillion captured the various moods and actions of Murray, who was so impressed he posted them on his Facebook page. "They're really, really good," said the Wimbledon contender and world's number four.
The original artwork, which was commissioned by the Daily Mail, was then transferred to canvas and handed over to Murray at Wimbledon, who signed them and donated them to Tickets For Troops.
Tickets For Troops was set up last year to provide top tickets to sporting, musical and entertainment events to troops and their families during these difficult times. Members of the Armed Forces and veterans medically discharged since 2001 are eligible for top tickets to the shows.
Patrons for Tickets For Troops include Gary Lineker, Michael Parkinson, James Blunt, Jeremy Clarkson, Vera Lynn, Joanna Lumley, cricketer Freddie Flintoff, football legend Alan Shearer, Ian Botham, Lorraine Kelly, Joss Stone, Kelly Holmes and many more.
The Chairman of Tickets For Troops said, "We are massively grateful to Andy Murray for his fantastic generosity and wish him the best of luck for the rest of Wimbledon."
Photo via TicketsForTroops.org.
Source: Tickets For Troops