Lucasfilm has announced that – in celebration of the September launch of Star Wars: The Complete Saga on Blu-ray – it is linking up with celebrities, eBay and Major League Baseball to ask fans to Use the Force for Good to support Stand Up To Cancer (SU2C).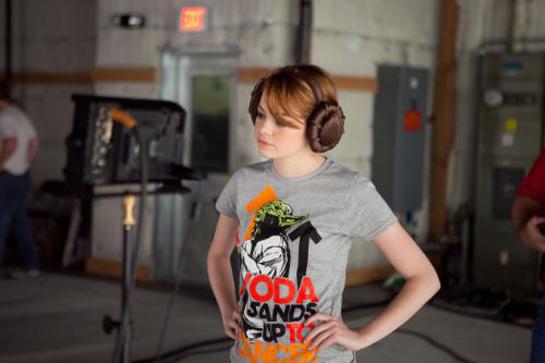 Emma Stone
"Lucasfilm joining with eBay, Major League Baseball and a wonderful group of actors is an amazing force for good being brought to bear in Stand Up To Cancer's fight against this disease, and we are profoundly grateful," said SU2C Co-Founder Sue Schwartz. "With one in two men and one in three women diagnosed in their lifetimes, cancer affects us all. SU2C's mission is to persuade each and every person to support the scientists working to end cancer, and this initiative gives legions of Star Wars fans fun and easy ways to do that."
The campaign has launched with a video featuring celebrity Star Wars enthusiasts encouraging fans to Use the Force for Good and join Lucasfilm in donating to Stand Up To Cancer. SU2C Ambassadors Aziz Ansari, Zach Galifianakis, Bill Hader, Ed Helms, Ken Jeong, Jaime King, Seth Rogen, Andy Samberg and Emma Stone – along with Star Wars alum Samuel L. Jackson – will each Use the Force for Good as they recreate classic Star Wars scenes to raise awareness for cancer research. The video can be seen here.
Also, eBay will use the Force of its 97 million active members to give fans an online destination for browsing unique and special Star Wars items. The destination will allow fans to bid on rare and exclusive items like a one-of-a-kind Star Wars edition 2012 Volkswagen Passat and a once-in-a-lifetime experience; dinner with prominent Bay Area filmmakers George Lucas, Chris Columbus, Francis Ford Coppola, Philip Kaufman and John Lasseter. All charity auctions began on September 16th at 4:00 p.m. PDT, and continue until 4:00 p.m. PDT on September 23rd.
Star Wars and SU2C have also created a Stand Up To Cancer line of Star Wars t-shirts. The tees will feature iconic Star Wars artwork alongside SU2C's signature upward arrows, with slogans like "Blast Cancer" and "Use the Force for Good." The exclusive tees are available now and can be purchased through the end of the year at store.standup2cancer.org/shop with proceeds benefitting SU2C.
Then, throughout the month of September, select Major League Baseball Clubs across the country will feature Stand Up To Cancer/Star Wars themed nights in their respective ballparks. The special events will offer Star Wars themed ticket packages with a portion of proceeds benefitting SU2C. Most packages will include appearances by Star Wars costumed characters, VIP fan photo ops, giveaways and the Star Wars Stand Up To Cancer exclusive t-shirts. For a list of participating Clubs, game schedules and ticket information, please visit MLB.com/StarWars. Since its launch, Stand Up To Cancer has grown significantly with support from players, fans and all 30 MLB Clubs. Major League Baseball was a founding donor to Stand Up To Cancer in 2008, and has donated more than $30 million to the groundbreaking research organization since its inception.
"We are thrilled to be using the launch of Star Wars: The Complete Saga on Blu-ray as a call to action for our fans to Use the Force for Good," said Kayleen Walters, Senior Director of Marketing at Lucasfilm. "We are happy to use the power of Star Wars to support this noble cause."
SU2C funds groundbreaking cancer research that will get new therapies to patients quickly and save lives.