By Abhishek Seth on
Look To The Stars' Abhishek Seth recently got to talk with Nick Cannon about his charity work, making the world a better place… and socks.
What got you interested in charity?
I was always taught: "To whom much is given, much is required." I've been blessed tremendously throughout my life — so I have to be a blessing to others. It's my duty, and I enjoy it.
Is there anyone in particular who has inspired your philanthropy?
I have definitely looked up to so many people that have given way more and done so much, before me. Russell Simmons is someone in my life. And the same with Quincy Jones.
It's definitely people like them who have shown me the way.
You do a lot of work for DoSomething.org. What about the organization attracted you?
DoSomething.org is the only organization that puts the effort where their mouth is.
It literally gives young people an outlet to do whatever they wanna be a part of. DoSomething gives them direction: It doesn't just say "Hey, do good," or "Be a part of charity." They show you how, and it allows young people to lead by example.
Why should your fans get involved with DoSomething?
Because DoSomething is real—it's not just an organization to make money. It literally wants young people to get out there, you know—and do something.
It's young people inspiring young people.
If you were to make a charity for your twins — the Roe-Roc Foundation —what would its main causes be?
I would allow them to make that decision.
That's one of the reasons why I do give back, and do a lot of philanthropic work. I want to be able to show my children there are many different ways to try to make this world a better place.
That's one of the main things in life: to leave this place better off than it was before we got here.
So I wanna be able to show my kids everything from feeding the homeless on Holidays, to visiting the sick; to helping to raise money for research for fatal diseases—all of those things.
I wanna be able to say, "Look, there's tons of things to be a part of, what are you passionate about?"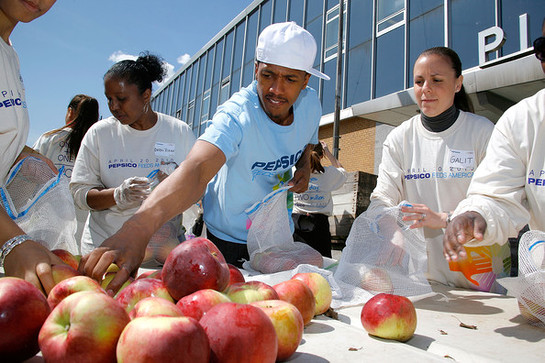 You currently have several "Nick-branded" organizations. Tell me about them. What is their overriding mission?
My foundations that I have now all surround youth. I'm a youth advocate—an advocate for youth empowerment.
Nick, why do you feel so strongly about young people?
It sounds cliché, but they're the future—this is the young people's world. And the Millennials are excited about service, and so I want to continue and empower them.
Fashion is a humongous part of your life, aka #SockSwag. What would be the first few things from your closet, you would auction off for a good cause?
Definitely my socks. (chuckles)
Do you find issue placement—in music videos, tweets, and tweetpics—a useful way to bring awareness to social issues? (Like your pro-life song, Can I Live.)
Absolutely. That's one of the beauties of music.
Music is community news, really. And to get out there and to be a voice in the huger music—to share stories and change people's lives. That's what music ultimately—aside from record sales and charts—is really about: Touching people's hearts.
Do think artists nowadays are placing issues in their music, or is it a very rare occurrence?
Like I said, the Millennials are more aware right now. They're excited about making the world a better place, and it's reflected in music.
Which of your recent work reflects your feelings on world issues?
Probably my stand-up, more than anything.
That's just the role basic to me, for who I am, and the things that I believe. It's unfiltered and sometimes, not politically correct, as others may want it to be.
It's me.
What about the world do you want to improve?
Unity — and the environment. We are all living on the same planet. We should all take care of it.
How do you think we and your fans can become environmentally active?
Honestly, I'm still a believer in the Green Movement—whatever we can do to lower our Carbon Footprint I think is always positive.
Oil for instance. Going back to using hybrid cars, and electric cars. Do things to save energy.
You mentioned unity. What can we all do to become more united?
Our world is a neighborhood. Just embracing each other—instead of trying to force our beliefs on others; let's just try to understand why other people believe what they believe.
How do you think Hollywood, MTV, and the radio, can help the world's problems?
Just by reflecting. Just by putting a mirror in front of it: "This is the world, good or bad."I think that's a wise thing.
That's what entertainment should really be about. We don't have to preach, but we definitely have to be honest, and show what life is about.
Lastly, how do you promote charity among your friends and, of course, with Mariah?
I don't think you necessarily need to promote it: You just need to do it.
My wife is actually great at that. Mariah does so much philanthropic stuff the world will never know about. She does it because she's doing it, from the goodness of her heart.
This interview would have been impossible without the help of: Dollie Bishop, Laura Giangiulio, Chloe Lee, Naomi Hirabayashi—and, of course, Nick Cannon.