The John Lennon Educational Tour Bus pulled up to the Black Eyed Peas' Concert 4 NYC at Central Park's Great Lawn on Friday, September 30th to work with students from the Black Eyed Peas' Peapod Foundation.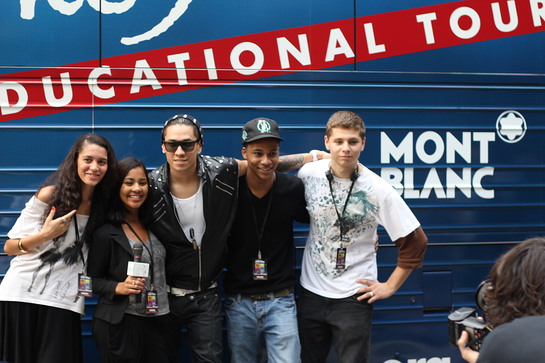 Taboo meets students outside the John Lennon Educational Bus
In a stop made possible by the continuing support of Montblanc, students from the Peapod Foundation had the opportunity to gain hands on multimedia experience on board the non-profit mobile recording studio and production facility that has recorded artists such as Natasha Bedingfield, Justin Timberlake, and the Black Eyed Peas themselves. Assisted by three on board engineers, students were able to utilize the Bus' state-of-the-art recording studio and video production facility to create a documentary about the concert, which supports the Robin Hood Foundation.
Black Eyed Peas singer Taboo took the time to meet students in the bus.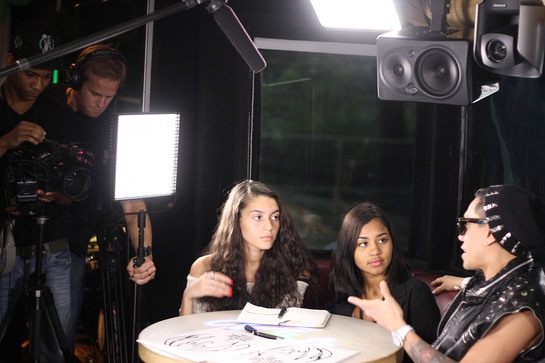 Taboo meets students in the John Lennon Educational Bus
Students also had the opportunity to join professional photographers and videographers in the photo pit and film the concert as part of their project. In addition to spending the afternoon learning how to use cutting edge equipment and professional grade software from Avid, the students learned about John Lennon, whose legacy is reflected throughout the Bus' design. These tributes included a display of the John Lennon Special Edition pen from Montblanc, proceeds of which benefit the Lennon Bus.
This New York City stop is one of many projects the Bus completes throughout the year as it travels across the country with the support of Montblanc to fulfill its mission of placing arts and multimedia education directly into the hands of students.
The John Lennon Educational Tour Bus is a US non-profit organization providing young people to learn how to compose, play, perform, record and produce music songs and videos.