Worldwide Orphans Foundation (WWO) will honor the legacy of the late Edward J. Phillips, a philanthropist and longtime supporter of WWO, at its Seventh Annual Benefit Gala, November 14, 6:00 pm at Cipriani Wall Street in New York.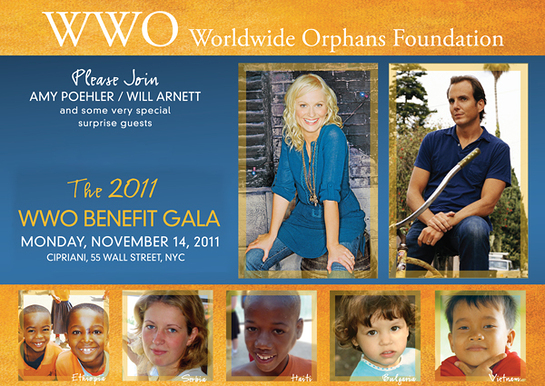 WWO is dedicated to transforming the lives of orphaned children around the world.
Actors Amy Poehler of "Parks and Recreation" and Will Arnett of "Up All Night" will co-host the spectacular evening gala. Several "very special surprise guests" are expected to make an appearance at the event.
The benefit gala will recognize businessman Edward J. Phillips, who passed away in April 2011, for his investments in WWO from its inception as a newly-established international nongovernmental organization to the cutting-edge organization that it has become today with established programs serving orphans and vulnerable children around the globe. As a mogul in the world of business, Phillips was credited with revolutionizing the vodka business.
Phillips made the first major investment in the WWO Academy in Ethiopia with a $875,000 grant over five years. The WWO Academy is a private school serving orphans and vulnerable community children with and without HIV/AIDS. The Academy, which is licensed by the Ethiopian Ministry of Education, provides a free education to orphans and children from impoverished communities, and features a rigorous curriculum incorporating global arts.
"WWO is deeply honored to recognize my mentor and business mogul, Eddie Phillips," said Dr. Jane Aronson, Founder and CEO of WWO. "He invested in me as a budding CEO and then in WWO. We are eternally grateful for his commitment to our organization. Eddie played a large role in making WWO the innovative organization that it is today."
The Gala Honorary Committee includes: Deborra-Lee Furness & Hugh Jackman, Andrew Garfield, Mary-Louise Parker, Naomi Watts & Live Schreiber, Daniel Craig, Carla Gugino, Mariska Hargitay & Peter Hermann; Connie Britton; Christine Ebersole & Bill Moloney; Liz Himelstein; Kathleen Marshall & Scott Landis; Donna Murphy & Shawn Elliot; and Brooke Smith & Steven Lubensky.
Tony-award winning director Kathleen Marshall is the gala's Entertainment Chair. WWO Leadership Council members Terri and Jeff Becks and Jenny and Jon Steingart will serve as the gala co-chairs.
The gala will also feature a live and online charity auction to support the organization's mission of transforming the lives of the world's orphaned children.
The mission of Worldwide Orphans Foundation is to transform the lives of orphaned children around the world by addressing their unique needs in their own countries through medical, developmental, psychosocial and educational programs. WWO programs are designed to nurture each child and provide opportunities for them to become healthy, independent, productive members of their communities and the world.
Individual tickets are $1000/$2500 (limited availability), table packages begin at $10,000. Please visit Worldwide Orphans Foundation at www.wwo.org or call 973-763- 9961 for more information.