On her recent tour of the Iztapalapa Paediatric Hospital in Mexico City, internationally acclaimed singer and UNICEF Goodwill Ambassador Angélique Kidjo swept through corridors, scooping children into her arms, delighting patients and parents alike.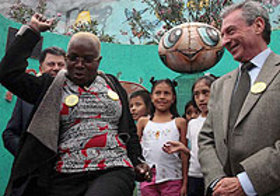 It was a joyful scene in the grimmest of places: a ward specializing in the treatment of child victims of violence and sexual abuse. Yet an innovative program known as SAPII – an acronym of its Spanish name, 'Sistema de Atención y Protección Integral a la Infancia ' – genuinely merits celebration.
SAPII offers a coordinated set of services to treat victims and their families, ensuring the children who arrive here receive medical care, psychosocial assistance, and the attention of legal experts and prosecutors.
Serving the most disadvantaged
The program is located in Iztapalapa, a neighborhood in Mexico City with the highest reported incidence of domestic violence. Yet, before SAPPII was launched – with UNICEF support – few cases of violence against children were identified here. In 2007, only 12 cases of child abuse were noted by the hospital.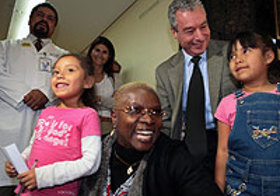 SAPII introduced training for health, justice and social welfare personnel, enabling better detection of violence and sexual abuse against children. Officials also learned sensitive approaches to taking legal testimony from children. In 2010, 216 cases were reported, with victims and their families receiving a host of medical, psychological and legal services. Children also received follow-up psychosocial care shown to reduce the emotional aftereffects of abuse.
Moving forward
Towards the end of her tour, Kidjo danced in the brightly colored hospital courtyard, her enthusiasm drawing children out of their initial shyness.
She embraced them, praising their strength and listening to their experiences.
"SAPII has helped me with my therapy. When I got here, I was very hurt. I didn't want anyone to touch me or to see me," said one girl. "At first, I didn't want to go back to school, but now I'm studying again. Everything they have given to me here has helped both me and my family."
It is a story Kidjo heard over and over.
"We received two groups of therapies, one for the mothers, and one for the children," said a mother whose daughter received care at SAPII. With this help, "we could overcome the difficult situation and move forward."
Love and Understanding
"When you are six or sixteen, and you have been beaten or sexually abused" the last thing one needs is to have to seek out services from a variety of institutions, Kidjo said after her visit. "SAPII's specialized and integrated attention at the first point of contact is exactly what you want."
And it is only a start.
"We see this as just the beginning," said UNICEF Representative in Mexico Susana Sottoli. "We are working to promote the model across the city and the country, so that we can alleviate suffering not for hundreds of children, but for tens of thousands."
To one mother at SAPII, this is a terrific idea. "If this was at a national or even international level, I think that children of today here in Mexico or in the world would have better opportunities in their lives," she said.
Another mother concurs. "Here, we find something very beautiful and helpful: love and understanding."
Photos: UNICEF/Mexico/2011/Hartz
Source: UNICEF