The Dag Hammarskjöld Fund for Journalists honored Her Majesty Queen Noor of Jordan and actress Mia Farrow with their Inspiration Awards for their work on humanitarian, human rights and peace issues at the United Nations in New York last week.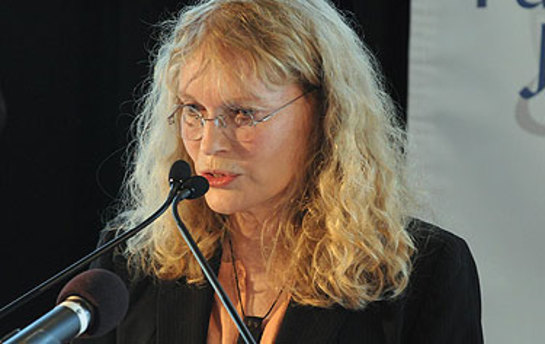 UNICEF Goodwill Ambassador Mia Farrow speaks at the Dag Hammarskjöld Fund for Journalists Inspiration Award luncheon at United Nations Headquarters in New York City. Photo: UNICEF/NYHQ2011-1749/Markisz


The Fund brings journalists from developing nations to New York each autumn to cover the United Nations General Assembly. It is managed on a voluntary basis by U.N.-based correspondents, who raise funds to support it. Initiated in 1962, the Fund was established as a memorial to Dag Hammarskjöld, the second U.N. secretary-general, killed in a plane crash in September 1961.
"We are honoring two women who dedicate their waking hours to give voice to the voiceless and highlight the misery of those in conflict zones," said Evelyn Leopold, chair of the Fund.
Her Majesty Queen Noor is an outspoken voice for world peace and justice in the Middle East, the Balkans, Central and Southeast Asia, Latin America, and Africa. Since 1979, the Noor Al Hussein and King Hussein Foundations' pioneering programs in education, sustainable development, women's empowerment, micro-finance, human rights, health, and cross-cultural understanding have provided training and support throughout the broader Arab and Asian regions. She is a founder of Global Zero, an international movement working for the elimination of nuclear weapons.
Mia Farrow has appeared in more than forty films but she is equally known as an unrelenting advocate for human rights in Africa. She has served as a UNICEF Goodwill Ambassador since 2000. She tweets, blogs and posts relevant articles and analyses on her website, which contains entries from Darfur, Chad, Rwanda, Central African Republic, Uganda, Congo, South Sudan, Kenya and Haiti. Mia Farrow recently returned from visiting Dadaab refugee camp where Somali famine victims are arriving in the thousands, in search of food, water and safety. Farrow labeled it "the most desperate place on earth."
Source: unjournalismfellowship.org