Music legend and human rights advocate Peter Gabriel hosted the 7th Annual Focus for Change benefit dinner and concert at the Roseland Ballroom in NYC Thursday, November 10, for Witness, the international human rights organization.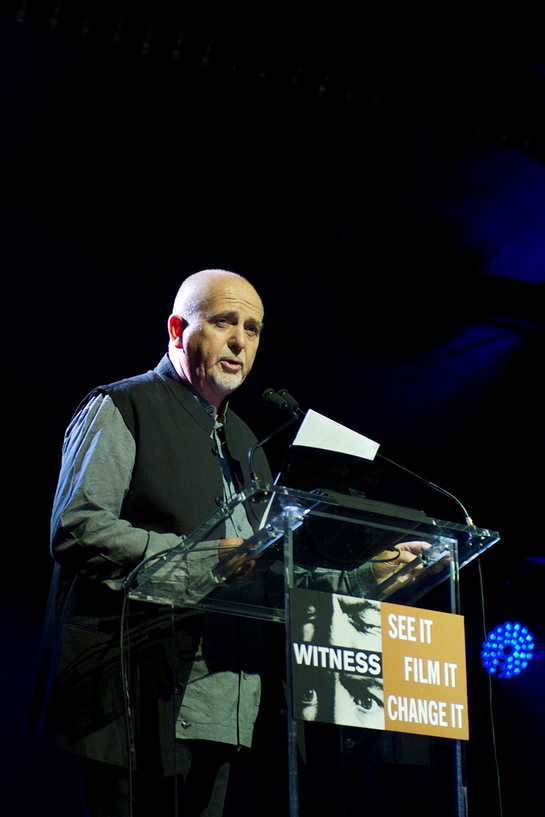 Peter Gabriel. Photo Witness via Flickr
The evening was a celebration of citizen activists from around the world, who are fueling revolutionary human rights change with the use of video, technology and social media.
"In this new world, video is no longer an optional tool for human rights activists. It is now an essential component to an effective campaign," said Peter Gabriel, Co-founder of Witness.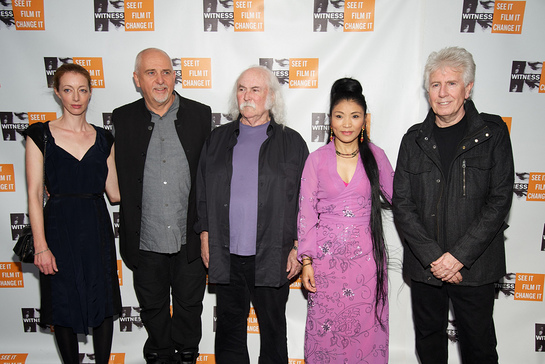 Meabh Flynn, Peter Gabriel, David Crosby, Yungchen Lhamo and Graham Nash at the WITNESS gala. Photo: Witness via Flickr
Special guest Bassem Samir, executive director of one of Witness' campaign partners the Egyptian Democratic Academy (EDA), shared his experiences with a room full of supporters about how video, mobile phones and social media helped the world witness the revolution, and are now being used to pave the way for a new Egypt.
"Throughout Egypt, we need to create our own future, not rely on others to create it for us," said Bassem Samir, Executive Director of EDA. "Witness is helping us achieve this. I feel very lucky to be part of this moment in history."
While supporters celebrated the opportunities resulting from video, technology and social media being used to create monumental change, especially in the Arab world, Witness also addressed the challenges that come with cameras literally being used everywhere. Cameras Everywhere was the theme of the evening's gala and the name of the organization's newest initiative, which aims to ensure that this new wave of tech-savvy citizen activists are able to use these tools as safely and effectively as possible.
"Social media and video sharing sites are the new public squares of activism, and companies that run these spaces have a responsibility to ensure their tools do NO harm and serve the cause of freedom of expression," said Yvette Alberdingk Thijm, Executive Director of Witness.
Performances were given by Mexican duo Rodrigo y Gabriela and Rock 'n' Roll legends David Crosby and Graham Nash of Crosby, Stills and Nash fame, who sang "Teach Your Children" and "Chicago," as well as other classics dedicated to the millions of people around the world joining the Video-for-Change Revolution.