Celebrities, music executives, sommeliers and wine connoisseurs helped celebrate the 8th Annual World Tour of Wine Dinner on November 17th to benefit the TJ Martell Foundation, the music industry's largest foundation that supports cancer research at three esteemed Manhattan hospitals.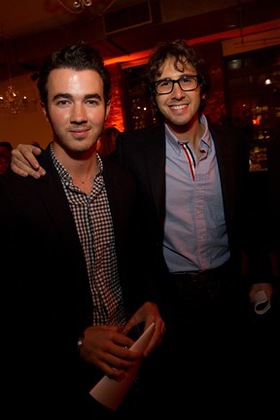 Kevin Jonas and Josh Groban
International recording artist Josh Groban, as well as Kevin Jonas of the Jonas Brothers and MLB Hall of Famer Eddie Murray, came out to show their support at the event, which raised $120,000. Also in attendance were award-winning sommelier and owner of Le Du Wines, Jean Luc Le Du, and Ben Carson of Ole Imports, who generously donated the reception wines.
The fundraiser at Tribeca Rooftop began with a cocktail hour and silent auction, followed by a gourmet, four-course dinner, live auction and elaborate wine tasting.
Longtime committee member Tom Corson, President/COO of RCA Records, was honored with the Grand Cru Award for his years of leadership and dedication to the Foundation. "I am truly honored and humbled to be acknowledged for supporting a cause so vital to all of us. Once again, this year's World Tour of Wine set new heights for giving and great times!"
The auctions featured wine trips on United Airlines, unique music memorabilia like sneakers autographed by Eminem, wine lots such as a 1986 Chateau Margaux, Z100's Jingle Ball tickets, a cheesemaker-for-a-day experience at Beecher's Cheese Shop in Chelsea, two seats to the tasting bar on ABC's The Chew and private dinners with Seamus Mullen of The Next Iron Chef as well as Andrew Carmellini along with paired wines from Donald Patz of Patz & Hall Winery. 
 

The Foundation has been a supporter of cutting-edge cancer research in New York City for the past thirty-six years, including at Mount Sinai Medical Center, Memorial Sloan-Kettering Cancer Center and Columbia-Presbyterian Cancer Center in Manhattan. 

For more information, contact the T.J. Martell Foundation at (212) 331-2161 or click here.