Multi-platinum rock band Daughtry will bring their energetic live show and rock n roll anthems to American service members and their families overseas this holiday season, when they headline Tour for the Troops 2011, presented by the Air Force Reserve.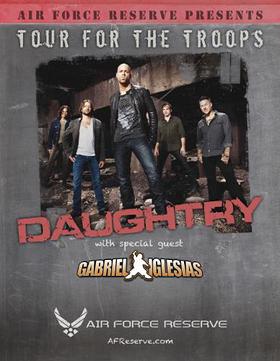 The band, whose music creates a gleaming showcase for Chris Daughtry's powerful, emotionally resonant voice, will entertain U.S. military personnel at Ramstein Air Base, Germany; Incirlik Air Base, Turkey; Naval Station Rota in Spain, and a number of deployed locations in Southwest Asia from Nov. 30 to Dec. 10. Joining them will be comedian Gabriel Iglesias, along with the Band of the Air Force Reserve.
The tour coincides with the release of Daughtry's highly anticipated third album, Break the Spell, which came out five years to the day that the band released its self-titled platinum debut. Our servicemen and women stationed overseas will be among the first to see them perform their newest songs, including their latest single, Crawling Back to You, an uplifting and hopeful song on its way to becoming the band's fifth No.1 hit. In addition, Daughtry has garnered 4 Grammy nominations, sold over 7 million albums and played sold out concerts around the world.
"We're extremely excited about Daughtry performing for our troops this holiday season, and to have the tour coincide with the release of their new album is even more exciting" said Chief Master Sergeant Glen Barnes, Chief of Advertising for the U.S. Air Force Reserve and the tour producer. "Daughtry is a favorite among our young service members, and the band members are eager to meet our troops and put on a show they won't soon forget."
Gabriel Iglesias is best known for his shows, I'm Not Fat..I'm Fluffy and Hot & Fluffy as well as TV appearances on Comedy Central, Jay Leno, Jimmy Kimmel, the Late Late Show, Good Morning America and many others. Everyone can relate to his hilarious mix of parody and characterizations.
Performing as the opening act will be the Band of the Air Force Reserve playing well known pop and contemporary favorites.
The Air Force Reserve presents Tour for the Troops to entertain and boost morale of our troops of all branches. Past performers include Kid Rock, Tim McGraw, Martin Lawrence, Ludacris, Blake Shelton, Jay Leno and Carlos Mencia to name a few.
For more information on the Air Force Reserve, click here.