Selena Gomez has kicked of the US Fund for UNICEF's 12 Days Of UNICEF Christmas campaign with a special blog post.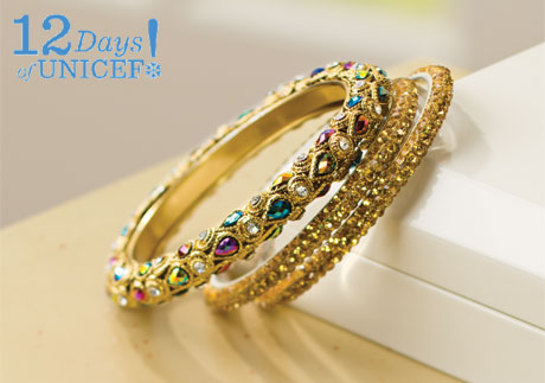 "Christmas is my favorite day of the year," she writes. "I love being able to slow down and enjoy time with my family this way. I have so many great memories, and one tradition I have come to look forward to every year is making cheesecake with my Aunt Laveda. Every year we get together and make food all day long, and the last thing is always the cheesecake. The holidays would not be the same without this special touch. I have even shared this recipe on the CBS Early Show.
"UNICEF Gifts that Give Back make the holiday season even more special.
"In flipping through their catalog of cards and gifts I found some amazing gift ideas for my friends. One of my favorites I found is the Jeweled Bangles. It comes in a set of three sparkly bracelets that are pretty lightweight and the colored gems go well with what I like to wear. It's also great to know that every UNICEF gift and card you buy helps children around the world."
Every day for the next 12 days, a UNICEF celebrity supporter will blog about some of the special gifts that can be purchased to help the organization's work.