Lucy Liu is the latest star to blog for the US Fund for UNICEF's 12 Days of UNICEF Christmas campaign.
Every day for 12 days, a UNICEF celebrity supporter is blogging about some of the gifts available this Christmas that benefit the organization's work.
"During the holidays as a child in New York, it often snowed, and when it did, my brother, sister and I would run outside and build snowmen, rocket ships and all kinds of creatures from our imaginations," writes Lucy. "We'd also have snowball fights that lasted for hours with the other kids on the block. After playing in the cold all day, we would come back home, change into our pajamas and then thaw out under the Christmas tree. I loved watching the lights change colors while sipping hot chocolate with marshmallows.
"As I've gotten older I've grown to cherish these memories. At the same time, I've also come to understand that there are children around the world who are not fortunate enough to enjoy this time of year. There are places where children don't have access to the basics for survival that we take for granted—things like clean water, food, and medicine.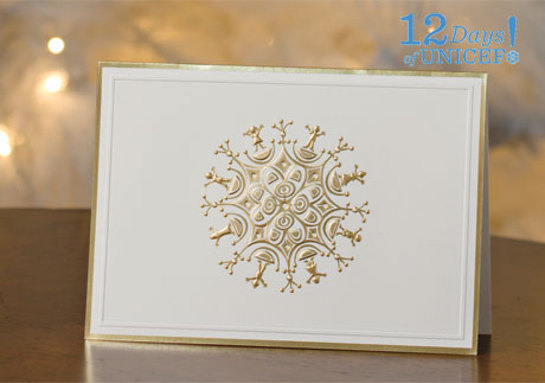 "Fortunately, there is a way to help. Every year UNICEF offers a collection of cards and gifts that support its lifesaving work for children all around the world. Among the many great gift ideas for adults and kids, my favorite is the Open Arms Ornament Holiday Card. The card is embossed in gold foil and shows children from around the world coming together to help create an intricate snowflake design. Not only is the card beautiful, but it feels amazing knowing that you're helping save lives."
Earlier this week, Selena Gomez kicked off the 12 Days of UNICEF campaign. Read her blog here.