By Misty Schwartz on
Nine-year-old actor Matthew Wayne may be young, but he has a big heart. The up-and-coming star recently talked to Look To The Stars' Misty Schwartz about his charity work.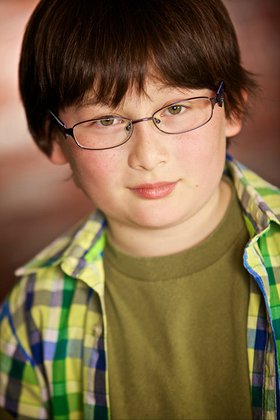 Why did you choose to support the charities you work with?
I support City of Hope and CHOC for cancer research because cancer is still the number one cause of death and I've lost several family members to cancer. For the kids with cancer, I want to do all I can to help them – to help the doctors find a cure. It is so unfair for kids, and I never want to take for granted my health. Because of my ability to work and be able to help out, I will always do what I can.
I also support anti-bullying because I've been a victim of bullying myself.
I support the SPCA, to benefit prevention of cruelty to animals because I am an animal lover. I do not want to see any defenseless animals abused and mistreated in any way.
How long have you supported them?
I have supported these charities for as long as I've been able to, due to my successes as a working actor, which is for about a year and a half now, financially. As for supporting them with my presence and moral support, for as long as I can remember going to events and benefits with my parents – I'll be 10 soon, so I guess for about 8 years??
How or why did you choose to get involved?
My parents and I talked about which charities I would want to support, with donations and my time and involvement with causes, if I ever had the opportunity to do so. They told me about how cancer took the lives of my grandmother, my aunt, my great grandfather and several uncles, not to mention my own experience seeing kids on TV who are suffering from cancer, which made me sad and made me want to help them somehow. So supporting cancer research and children's cancer/hospital facilities was an easy decision.
As for the bullying, that was because of my own experiences of being bullied.
The animal charities are simple…. as I said before, I LOVE ANIMALS!
Can you talk a little bit about some of the other causes you support?
I could, but you'd need a week or so to sit down and hear me out!! I love to do whatever I can to help people less fortunate than myself and my family. We may not have it all, but we have more than a lot of people and I think everyone should help everyone. Wouldn't that make this world a better place to live? So, I do what I can because it makes me feel good! I am involved in helping the homeless by going to events and walks to raise money for housing, or food, or medicine – all kinds of things for families and people who need help. I donate toys to things like Toys for Tots at Christmas to name but one of many gift raising charities around the holidays. There's so much more that can be done too, but I am only one person. EVERYONE needs to get involved!
And how important do you think it is for celebrities to get involved in charity?
I think it is very important to 'give back'. Celebrities are very visible to the public and therefore can set an example and be good role models for others to follow suit and join in on these causes. It is extremely important to me to set that example.
Find out more about Matthew here.