The United Negro College Fund will broadcast UNCF AN EVENING OF STARS – presented by Target – nationally in major markets on Saturday, January 28th and January 29th and on BET Networks at 11 p.m. EST/PST and 10 p.m. CST on Sunday, January 29th.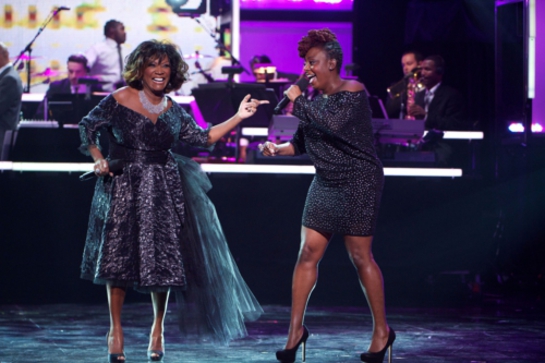 The combination of headliners like legendary songstress Patti LaBelle, singer Erykah Badu, singer-songwriter Anthony Hamilton and R&B star Ledisi with star students whose education has been made possible by UNCF makes the program a high-voltage celebration of the best in music and the best in education.
Patti LaBelle's powerhouse performance of "When You've Been Blessed"; Estelle's heartfelt rendition of "Break My Heart"; Anthony Hamilton's soul-stirring performance of "Fine Again" and Miguel's eclectic sound on "Sure Thing" bring the audience to its feet. And UNCF student success stories celebrate the power of education—like the story of the junior who served in Iraq before returning to college, the senior whose undergraduate record won her a coveted slot in Teach For America, and the Florida college graduate who became the youngest person to fly solo around the world—make the capacity Pasadena Civic Auditorium crowd proud of both the students and the organization.
"This year's UNCF AN EVENING OF STARS is filled with high energy performances, combining the hottest talent with inspirational stories of young students who are beating the odds because they can receive a good education," said Michael L. Lomax, Ph.D., UNCF president and CEO. "We are grateful for the support of all our celebrities, sponsors and contributors, who understand the importance of 'Educating our Future' and giving students the opportunity to earn college degrees that will enable them to lead successful and fulfilling lives."
Additional highlights of the evening's 10 performances include: Marsha Ambrosius' sultry sound of "Far Away"; Jill Scott's soulful rendition of her hit "So Blessed"; Musiq Soulchild's blazing performance on his hit single "Yes"; a crowd-amping group number of "Shining Star"; and BET's "106 & Park" host Terrence J sharing his inspiring testimony on how UNCF helped start his professional career after receiving a scholarship which included an internship at a radio station.
In addition to performers, this year's UNCF AN EVENING OF STARS includes special appearances by Tatyana Ali ("Fresh Prince of Bel Air"), Pooch Hall (BET's "The Game"), Jill Marie Jones (CW's "Girlfriends"), Coby Bell (BET's "The Game"), David Banner (Stomp The Yard 2), Sean Patrick Thomas (Save The Last Dance), Lance Gross (TBS's "House Of Payne"), Sheryl Underwood (CBS's "The Talk"), Terrence J (BET's "106 & Park"), Monique Jackson and Kita Williams (VH1's "The TO Show"), Shaun Robinson ("Access Hollywood"), Kenny Smith (TNT's "Inside the NBA"), Brian White (TNT's "Men of a Certain Age") and the national presidents of the Greek-letter organizations that make up the National Pan-Hellenic Council.
The stars on the UNCF AN EVENING OF STARS stage not only shared their hottest hits but made special appeals to help UNCF students who are committed to getting to and through college. From the stage, celebrities asked the show audience and television viewers to text "UNCF" to 50555 on their cell phones to donate $10 to help students secure their education and their future. Viewers are also encouraged to visit www.UNCF.org to make larger donations to help young men and women get their college degrees.