Legendary and emerging artists inspired by the Occupy Wall Street movement have come together to lend their voices on Occupy This Album: a compilation of music by, for and inspired by the Occupy Wall Street movement.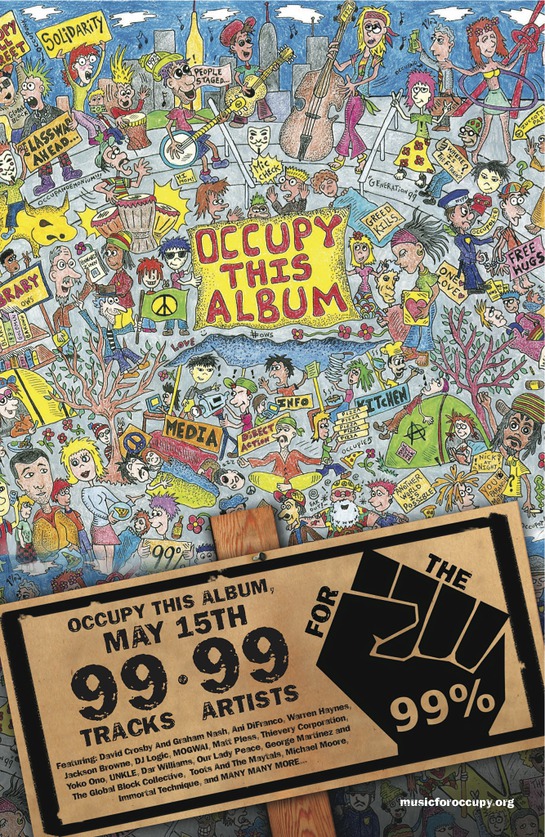 Released by Music For Occupy through Razor & Tie distribution, the four-disc physical and 99-track digital compilation is due out May 15th. Proceeds received will go directly to the Occupy Wall Street movement, which began in the financial district of New York on Sept. 17, 2011.
The movement can now be found in 951 cities in 83 countries on five continents. On May 8th The City Winery in New York will host a special night of performances by participating artists and surprise guests.
Some of the artists featured on the album include Steve Earle, Joan Baez, Tom Morello, Willie Nelson, Yoko Ono, Third Eye Blind, Lucinda Williams, Jackson Browne, Deborah Harry, David Crosby, Graham Nash and many more.
More information is available at www.musicforoccupy.org.
Occupy This Album will be released digitally (featuring 99-tracks + 1 hidden track) as well as physically (featuring 78-tracks) on a four-disc compilation distributed worldwide by Razor & Tie Records and can be pre-ordered here. Many of the tracks by both renowned and up-and-coming artists have never before been released. Additionally there are well-known songs that have been re-recorded and re-mastered and live-cuts for Occupy This Album. Full track list available below.
The City Winery and Music for Occupy will present the Occupy This Album Record Release Party on May 8th at City Winery (155 Varick St. New York, NY 10013). The evening's program will include performances and collaborations by artists appearing on the upcoming release. The release party is a chance to inspire and celebrate through music the Occupy Wall Street movement and the 99% who've been adversely affected by the economic corruption that has permeated our Democracy, created a near insurmountable disparity in wealth, and hindered life, liberty, justice and the pursuit of an honest living for all.
Tickets are on sale now here. Tickets include a bottle of the special wine " Occupy This Wine" Cabernet Sauvignon and a free copy of Occupy This Album.