Get Lit-Words Ignite, a leading Los Angeles-based nonprofit that fosters literacy by engaging at-risk youth in literary performance, education, and teen poetry programs, hosted the nation's very first classic poetry slam on April 28th at The Wiltern Theater during National Poetry month.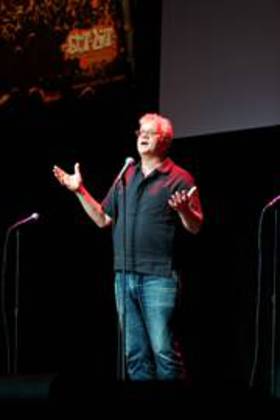 Photo credit Matthew Rigdon
Over 1,000 people were in attendance to watch teens from all across Los Angeles slam classic poetry as well as their own responses. The event garnered celebrity attention from actors such as Tim Robbins, the academy award-winning actor, who performed a poem himself. After weeks of preparation and competition the four schools that competed at the finals were Polytechnic School from Pasadena, CHAMPS Charter High School of the Arts in Van Nuys, Animo Inglewood Charter High School, and Triumph Charter High School in Sylmar. Polytechnic School won the competition and the scholarships awarded to the winning team, school, and teacher.
"The large crowd and enthusiasm for the performances made every moment of doubt and hard work worth it," said Diane Luby Lane, the founder and executive director of Get Lit-Words Ignite. "There were so many moments were people told us that it couldn't be done, but it was—we filled the historic Wiltern Theater not only with people but also with cheers and excitement. The teens who competed were incredibly brave and the power they brought to those classic poems as well as their own original responses was nothing short of inspiring. I'm proud to say that we set the tone for not only Los Angeles, but also the nation."
The teens competed in front of a panel of celebrity judges that included former pro basketball star and broadcaster Tommy Hawkins, Mexican television personality and game show host Marco Antonio Regil, acclaimed author/poet Luis Rodriguez, Los Angeles-based writer, actress, performance artist, pop culture analyst, and radio commentator Sandra Tsing Loh, and actor Efren Ramirez.
Get Lit partners with actor/director Tim Robbins and is supported by fellow actors James Franco and Helen Mirren and by the Los Angeles Dodgers. The Get Lit Players, Los Angeles' award-winning classic teen poetry troupe, were invited by First Lady Michelle Obama to The White House in May 2011.
Today only about 60% of teens graduate high school nationally, and in Los Angeles teen literacy rates are second lowest in the nation. In light of these staggering statistics, the LAUSD Arts Education Branch suffered a 100% funding cut recently. As a result hundreds of music, theater, visual arts, and dance teachers no longer have jobs. Get Lit fills a much needed educational void.
By immersing teens in the world of great books, often for the first time, Get Lit equips students for future success in college and the workplace by building concise writing skills and dynamic public speaking abilities and a foundation of self-confidence. Get Lit aims to empower youth to succeed by drawing connections between the emotions and experiences fueling the work of classic writers to the complexities and struggles teens face in their daily lives. Igniting a love of language, teens are inspired to stay in school, become lifelong learners and thrive.
Founded in 2005 in Los Angeles, Get Lit is a leading non-profit presenter of literary performance, education, and teen poetry programs. Get Lit uses the memorization and recitation of classic poetry as a launch pad for teen-created spoken word responses, fusing the two forms of expression into compelling performances, conducted by teens in school, after school, and through the organization's own select group of Get Lit Players. These poet ambassadors from throughout Los Angeles perform both classic and spoken word poetry, inspiring fellow teens to read, write, participate in the arts, and be leaders in their community. Each year, Get Lit reaches over 15,000 at-risk teens in more than 45 high schools, turning these students into motivated scholars inspired to stay in school and thrive. Learn more here.