Chris Martin and Plan B have admitted for the first time to suffering from tinnitus in support of a campaign to make people aware of the dangers of listening to loud music for too long.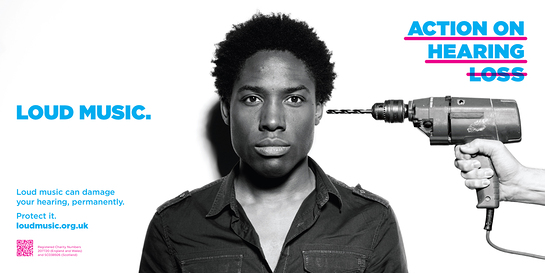 Eighties icons Gary Numan and Barbara Dickson also exclusively reveal their own hearing problems to help promote the UK charity Action on Hearing Loss campaign called Loud Music, which educates young people to listen to music safely.
A whole host of stars have lent their support to the cause, full quotes below. They include Soul II Soul legend Jazzie B, Boy George, DJ Judge Jules, deaf musician Evelyn Glennie and deaf composer Michael Berkeley.
"Looking after your ears is unfortunately something you don't think about until there's a problem," said Coldplay's Chris Martin. "I've had tinnitus for about 10 years, and since I started protecting my ears it hasn't got any worse (touch wood). But I wish I'd thought about it earlier. Now we always use moulded filter plugs, or in-ear monitors, to try and protect our ears."
Plan B said: 'When I first developed tinnitus, I thought it was trains rushing by my house as I live near a railway line – it was really loud and an extremely high pitched ringing in my ears. I had to see an ear specialist as I couldn't get rid of this ringing noise, I didn't know what it was, and I was told it was tinnitus. I now have to wear special earplugs when I go to bed to help stop my ears from ringing. There's no doubt it's been caused by years of being on stage and subjected to very loud decibels of music. So if you're listening to music a lot, producing music or performing live, then always wear earplugs. You're not Superman and your hearing matters!'
Action on Hearing Loss are using hard hitting adverts featuring people's ears being attacked by a drill or hammered with a nail. This is to visually portray that listening to loud music can damage people's hearing, cause tinnitus, or in extreme cases, deafness. In addition, Loud Music is being rolled out virally using a video advert and strong social media marketing campaign.
UK charity Action on Hearing Loss Chief Executive Jackie Ballard says: 'We're excited to be launching our first advertising campaign since our rebrand in June last year. For years we have tried to educate people about the dangers of loud music, and this campaign is a new way for us to try to reach different audiences with this vital message.
'The Loud Music message is simple: take action now to protect your hearing. We're thoroughly proud of this campaign and hope it has a strong impact on people who are at risk of tinnitus or premature hearing loss.'
Find out more here.