Zandra Rhodes, Wayne Hemingway and iconic photographer Rankin are among the industry leaders fronting a national Prince's Trust campaign in the UK to inspire a generation facing record youth unemployment.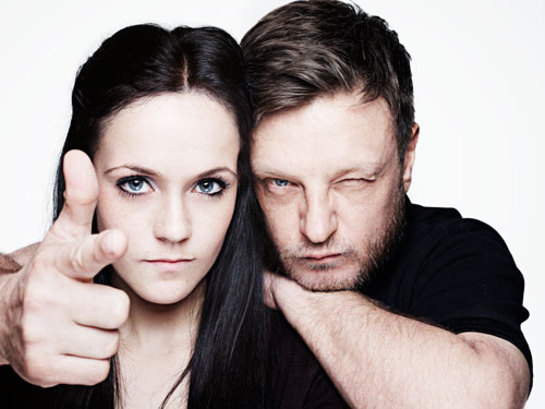 British beauty entrepreneur Liz Earle, chef Gizzi Erskine and interior designer Kelly Hoppen are also supporting the youth charity's Tomorrow campaign, which urges employers to recognise young people as tomorrow's industry leaders.
The established faces will each mentor a young person, who has overcome unemployment with support from The Prince's Trust, to create a product that will retail nationwide.
Major UK retailers, including T.M.Lewin, Zizzi and QVC, will work alongside these well-known public figures to provide support throughout the mentoring process and offer expert guidance on aspects of product development and retail. All the Tomorrow products sold as a result will raise valuable funds for the charity. 

The advertising campaign, which features the celebrity mentors and launched on Monday, is reminiscent of the 1914 Lord Kitchener poster. The adverts remind young people: "Tomorrow Needs You", complete with Kitchener-styled props.
Designer Wayne Hemingway MBE said: "If we invest in young people today, we're developing British talent for the future. Not every young person is in a position to realise their potential but a campaign like Tomorrow can help us reach young people who need encouragement and support."
Interior designer Kelly Hoppen MBE added: "At this time of record-breaking youth unemployment, we need to cultivate young talent and give young people hope. By sharing my experiences, I hope that I can help young people to pursue their own ideas."
Photographer to the stars, Rankin, has worked alongside his own Trust-supported mentee, 18 year-old photographer, Care Johnson, to shoot the campaign's advertising images. When an allergy to animals ruined her dreams of working with horses, Care struggled to find another job. Determined to succeed, the teenager created a job for herself, setting up as a photographer with help from The Prince's Trust.
Rebecca, aged 25, from Doncaster is being mentored by Liz Earle MBE. Rebecca struggled at school and left aged 15 with no qualifications. She scraped through a beauty course and moved from job to job, not knowing what direction to go in. She settled at a large department store but was shortly made redundant. Rebecca lost not only her job but her home and resorted to staying on her grandma's sofa whilst carrying her first baby. Shortly after giving birth to her son, Rebecca approached The Prince's Trust and received a loan to set up her own lash and nail business. Rebecca went from being a homeless single mum to running a business which currently employs eight local women. Under Liz Earle's mentorship, she will be helping to develop a new product for Liz Earle Beauty Co.
The Trust is urging unemployed young people to visit a new website, www.princes-trust.org.uk/tomorrow, which provides advice, inspiration and support for those struggling in the current climate. Joanna Lumley, Jamie Oliver, James Caan and Alan Titchmarsh are among those who have shared their stories of how they reached the positions they are in today.
Martina Milburn, Chief Executive of The Prince's Trust, said: "With more than a million young people out of work, we must all take action to avoid a generation of young talent going to waste. Young people need our support to be the industry leaders of tomorrow. We hope the six young talents at the heart of this campaign will inspire many more to achieve their potential."
The Prince's Trust helps change young lives. It works with 13-to-30-year-olds who have struggled at school, have been in care, are long-term unemployed or have been in trouble with the law. Last year more than three in four young people helped by The Prince's Trust moved into work, training or education.