Actress Lea Michele has joined Valspar Paint and Habitat For Humanity in unveiling Valspar Hands for Habitat.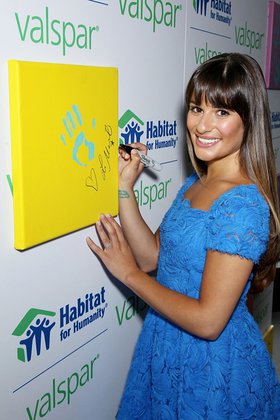 Now in its second year, the program auctions the colorful handprints of celebrities and notable personalities, created using Valspar Paint. Money raised from the auction benefits Habitat for Humanity's disaster response programs, which provide immediate and long-term response and solutions to natural disasters such as the recent tornados in the Midwest and Southeast which damaged and destroyed the homes of thousands.



"I am honored to be partnering with Valspar Paint and Habitat for Humanity to help support those who need our support following natural disasters to get on the pathway to recovery," said Valspar Hands for Habitat ambassador Lea Michele. "Everyone deserves a safe and secure place to live and it's a great feeling to know that through Valspar Hands for Habitat, we are bringing hope and comfort to families in need."
Lea Michele is in good company. Along with the actress, other notable names who have donated their handprints for the Valspar Hands for Habitat auction initiative include: Angela Bassett, Kelly Bensimon, Nate Berkus, Tory Burch, Andy Cohen, Lauren Conrad, Genevieve Gorder, Kristen Johnston, Sandra Lee, Sierra McCormick, Mary McDonald, Jillian Michaels, Hilary Rhoda, Joan Rivers, Melissa Rivers, Cynthia Rowley, Susan Sarandon, Jamie Lynn Sigler, Taylor Spreitler, Ivanka Trump, Kerry Wood and many more.


Building upon Valspar's goal to help everyone connect to the power in color, each set of handprints was made using a variety of vibrant Valspar Paint colors. In addition to proceeds from the auction, Valspar is also donating $1,000 for every set of celebrity handprints donated to Valspar Hands for Habitat.


"The Valspar Hands for Habitat program is a unique opportunity for us to support Habitat for Humanity and demonstrate what we believe," Paula Shikany, director of marketing, Valspar. "Valspar is proud to continue our longstanding relationship with Habitat and our ongoing commitment to transform lives and help people connect to the power in color."


The Valspar Hands for Habitat program is part of an ongoing partnership between Valspar and Habitat for Humanity. Valspar's support for Habitat began in the mid-1980s, when it first provided paint and services to Habitat for Humanity Twin Cities. Since launching their national partnership in 2002, Valspar Paint has committed more than $60 million in cash and paint to Habitat through 2014. Valspar and Habitat recently marked their long-standing partnership by celebrating the 1 millionth gallon of Valspar Paint donated to Habitat.


"Valspar has been supporting Habitat's mission and goals for more than 25 years, and we are so grateful for their ongoing partnership," said Jonathan Reckford, CEO of Habitat for Humanity. "The Valspar Hands for Habitat initiative provides critical support to our disaster response programs and is another example of Valspar's valued commitment to help us provide secure, decent housing."


The Valspar Hands for Habitat auction went live on Friday, July 20 at 8 a.m. ET, with handprints open for bidding through Thursday, August 2 at 3 p.m. ET. For additional information and auction details, visit Facebook.com/ValsparPaint.