Singer Jessie J and Make-A-Wish UK made a dream come true for a special teenager recently.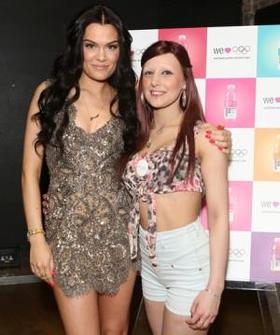 From Make-A-Wish.org.uk: "Jessika, aged 17 and living with the cancer Ewings Sarcoma, wished to meet singer and songwriter Jessie J. Jessie was happy to invite her to be a VIP guest at a very special promotional event she was doing at the Roundhouse in Camden for Vitamin Water. Originally, Jessika had wanted to see Jessie in concert but she was unable to due to her treatment plan – so this was a second chance, and Jessie didn't disappoint!
"We arranged for Jessika, who is from Norfolk, to visit London with her Aunt Tracey and best friend Georgie. They stayed in a top London hotel, and we provided them with some activity money to go off exploring. Jessika chose to take a shopping trip down Oxford Street, before being driven to the Roundhouse by limo.
"Whilst Jessika was wandering around London, she happened to bump into Olly Murs as he grabbed a quick bite to eat, and this turned out to be the first of several celebrity meetings Jessika enjoyed during her wish.
"At the event itself, Jessika was assigned VIP tickets, which enabled her to hang out with other VIP guests – including Louie Spence from TV's Pineapple Dance Studios, Kimberly Wyatt from Pussycat Dolls and rapper Chipmunk. Jessika was invited backstage to have her photo taken with Jessie and to have her clothing signed with a very special message: 'Just be true to who you are'. Who You Are is a favourite song of Jessika's because she felt that the lyrics really spoke to her during her treatment.
"Jessika had a great time and described the gig as "incredible!". Her Mum said: 'Thank you to all your hard-working staff; you are all amazing and kind. Jessika had such a fantastic time and is still on a high from it'."
Source: Make-A-Wish UK