If he were President of the United States, comedian Tom Arnold says the first thing he'd do is head down Pennsylvania Avenue to meet with members of Congress.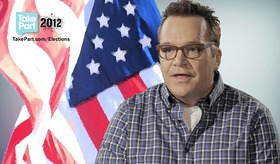 And then he'd point out just how much the rest of the country absolutely hates Washington D.C. these days.
"Listen guys, people aren't really digging me, and they f——— really hate you guys," Arnold tells TakePart he'd say to Congress. "Let's build something, man. Let's put some s#*t together for the people out there who can't stand us."
Arnold spoke to TakePart as the kickoff entertainer in their 2012 "Why I Vote" video series featuring celebs talking about the issues that are motivating them to head to the polls this election series.
Check out the full video here, and look for future episodes featuring celebrity fitness expert Jillian Michaels, MTV star Ashley Rickards, and many more.
And for the latest election news about issues that really matter — like education, the environment and social justice — check out TakePart's elections hub page at TakePart.com/Elections.
Full video here.
Source: TakePart.com