Let's face it: we're all nerds. WONKA, the maker of NERDS candy, has announced that more than 10,000 fans have joined NERDS Unite! in a nationwide stand against bullying.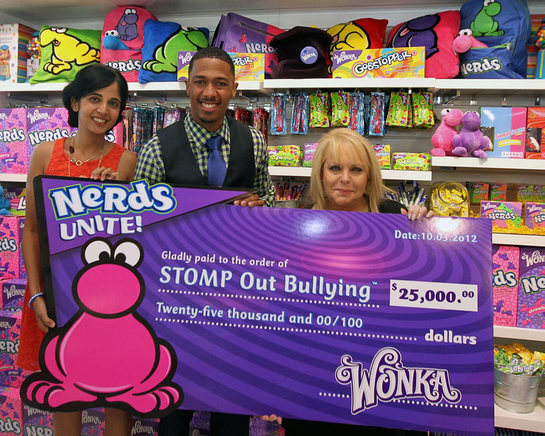 To commemorate National Bullying Prevention Awareness Month in October, and to celebrate the success of the first-ever "NERDS Unite!" anti-bullying campaign, WONKA also revealed results from a new national survey that asked 1,000 teens and young adults about their views around bullying and personal identity.
Findings of the "NERDS Unite!" survey, commissioned by WONKA and conducted by independent market research firm Toluna, were shared today during a media event at the new Dylan's Candy Bar store at The Original Farmers Market in Los Angeles. Together with "NERDS Unite!" fans and supporters, including actor Nick Cannon, WONKA presented a check in the amount of $25,000 to STOMP Out Bullying, the leading national anti-bullying and anti-cyber bullying organization.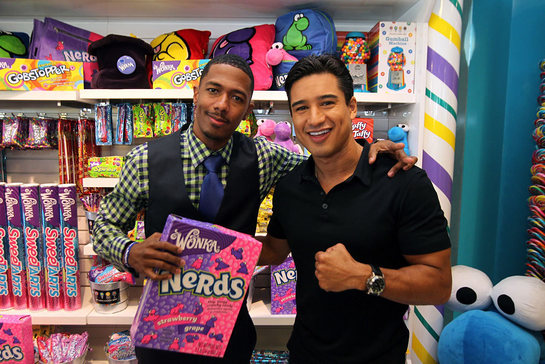 "WONKA is thrilled by the success of and positive response to 'NERDS Unite!,'" said WONKA spokesperson Tricia Bowles of Nestlé USA Confections & Snacks. "We've been surprised and encouraged to hear from teens around the country about what it means to be nerdy and why embracing their nerdiness or individuality is so important to help prevent bullying." Bowles added, "Through 'NERDS Unite!,' WONKA has built a dialogue with those who are passionate about anti-bullying. We are proud to bring more attention to this important cause on behalf of the entire NERDS community."
Amongst the survey findings: more than 54 percent of teens consider themselves as "nerds" about something, and 57 percent think being a "nerd" is cool, demonstrating today's teens are open to reinvent the original definition of a "nerd." Also, 60 percent admitted to having been bullied, with more than 57 percent citing "at school or at a school-related event" where bullying is mostly likely to take place in their community. Teens overall shared, with the help of family and friends as resources for support and help, they are more likely to stand up for themselves against bullying.
While teen awareness of anti-bullying efforts steadily grows across the country, the national survey results also found:
86 percent of teens and young adults surveyed believe "differences in people" is a good thing
85 percent of boys/men polled would stand up for themselves against bullying, versus only 69 percent of girls/women
55 percent of all surveyed believe bullies pick on others due to "insecurities, peer pressure and lack of understanding"
"What we love about 'NERDS Unite!' is that it really empowers teens to embrace who they are, to be nerdy and accept others' nerdiness, which is a great message to combat bullying," said Ross Ellis, founder and CEO of STOMP Out Bullying. "With our celebrity advocates embracing their nerdiness, 'NERDS Unite!' is really giving teens permissibility to be different, and that's a wonderful thing."
With its namesake rally cry, "NERDS Unite!" began in late May 2012, and was led by actor and "NERDS Unite!" spokesperson Wilmer Valderrama. He challenged teens everywhere all summer long to join the anti-bullying movement and share online what they are "nerdy for" in order to promote a positive message that embraces individuality, "nerdy" passions, and differences.
Bolstered by additional support from celebrity friends who appeared with Valderrama in a "NERDS Unite!" video at the start of summer, including actor Nick Cannon (America's Got Talent), singer/actress JoJo, actress Francia Raisa (Secret Life of the American Teenager), and actress Erin Sanders (Zoey 101), WONKA had announced that if 10,000 teens joined the movement this summer, WONKA would donate $25,000 to STOMP Out Bullying. During the summer, "NERDS Unite!" was featured backstage at the TEEN CHOICE 2012 and backstage at the 2012 MTV Movie Awards, where even more celebrities signed up for the movement, adding to the growing numbers of "nerds" united against bullying.
There's still time to join "NERDS Unite!" and proudly tell the world what you're nerdy about by visiting Facebook.com/Wonka and clicking on the "NERDS Unite!" tab.
Source: BusinessWire.com