Sherlock star Benedict Cumberbatch was among 3,000 cyclists saddling up for The Prince's Trust Palace to Palace bike ride supported by Saudi Aramco on Sunday 14th October.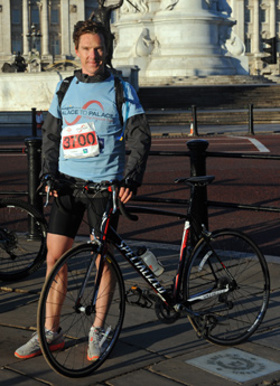 The 45-mile Palace to Palace ride from Buckingham Palace to Windsor Castle raises vital funds for the work of The Prince's Trust. Every year, the sell-out event sees participants collectively cycle 135,000 miles between the Royal Palaces.
Prince's Trust ambassador Benedict, who stars in the hit BBC drama Sherlock, has raised more than £20,000 for The Trust for this year's event.
He said: "I don't get the opportunity to cycle much so it was fantastic to take part on such a beautiful route through London. It wasn't easy cycling 45 miles but it's worth it for such an important cause and everyone has had a great time.
"The Prince's Trust is a charity which I am passionate about helping. Young people are our future, and with so many struggling to find work in the UK, I feel it's vital we do everything we can to make sure all young people have the opportunities to succeed."
TV presenter Anna Williamson, who took part with her team Anna's Angels, said: "It was hard work but lots of fun riding through the city. The best thing about Palace to Palace is that it's not a competition so everyone was really relaxed and the atmosphere was absolutely brilliant."
A team from The Trust's radio partner Magic 105.4 kicked off the bike ride, with breakfast presenter Dr Neil Fox taking part along with his co-presenter Verity Geere. Ex-Rugby international Victor Ubogu also took part in the ride.
Supported by Saudi Aramco, cyclists embarked on a stunning 45-mile route along the River Thames and through three royal parks.
A spokesperson for Saudi Aramco said: "We are delighted to support the bike ride for the third year in a row. This year was the biggest year so far and we would like to thank everyone for taking part and making it such a great day.
"We are inspired by the work of The Prince's Trust and we hope that the money raised today will help many more young people to find work in the UK."
To date, Palace to Palace has raised over £1,1000,000 to support The Prince's Trust, helping disadvantaged young people into jobs.
Source: Prince's Trust