By Abhishek Seth on
Teen star Victoria Justice is supporting AT&T's new It Can Wait campaign, which encourages people not to text and drive. LookToTheStars.org recently sat down and talked to the actress about her charity work.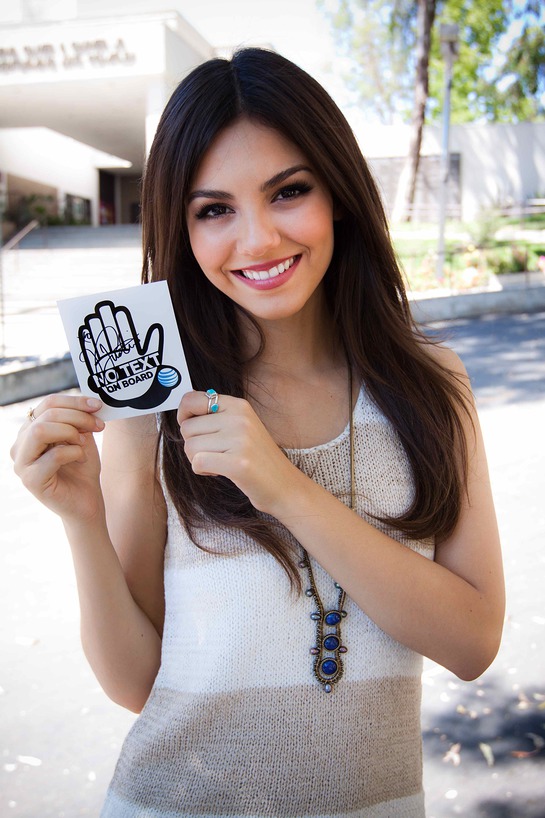 What attracted you to support AT&T's It Can Wait campaign?
Texting while driving is the number one cause of death among teens.
I was completely, utterly shocked and horrified by that statistic. I wanted to tell all the people following me that there is a way that we can lower the statistic, and stay safe. Just really remind that no text is no risk.
It's not worth risking your life and anybody else's. Pledge on ItCanWait.com.
The free AT&T app DriveMode is really cool, too. It automatically sends a personalized text message back to the caller, letting them know you'll text them back, as soon as you arrive safely.
The Red-light Story. If most people are not texting and driving, they text at a red light. Safe?
It's still a distraction.
You are still in the car and you're driving — unless you are in Park, on the side of the road, and safely at your destination. You should really put your phone in the glove compartment, somewhere you know you won't be tempted. Or just turn it off. Because it's really not worth it.
You're 19. No license! How awesome do you feel!?
I feel pretty awesome [giggles] — I do, though! It makes me feel comfortable. It makes me feel safe.
I think that's important because I haven't been ready to take my big Driving Test to get my license. I've been working so much that I haven't had the time to really practice being on the road.
Do you have any family or friends who got in trouble; or were affected by texting and driving?
Knock on wood, none of my friends have gotten in serious accidents. You hear stories of friends of friends, and people who you know: and that's just as devastating.
But, I definitely have been in cars with friends, and have seen them get distracted while texting, or looking for the next playlist on their phone. I'm like, "Oh my god. Keep your eyes on the road. I don't feel comfortable right now you doing this."
It is also important for me to spread this word, and get people to take this pledge, like I have, because I have a younger sister who is 16. She's going to be on the road soon. And, of course, like a big sister, all I care about is her safety.
I want her to grow up with this mentality about not texting and driving.
In your famous song Best Friend's Brother, you are seen texting in a parked car. What are your thoughts on Issue Placement?
Issue placement definitely could be effective used in music videos and TV shows — there are a lot of eyeballs on that type of programming.
Ford and Audi recently added Internet to their cars, instigating a new industry-wide trend. Thoughts?
Wow — that's really intense! Technology is taking over the world and our lives [Victoria's alien voice].
Technology really is such an incredible thing, and has changed our world in so many positive ways. With those types of features, you just have to be really mindful of not being distracted: using it wisely, and being responsible.
And if you are driving—and you have something you desperately have to tweet—then have the person next to you do it for you.
Google has almost perfected its cars that can drive themselves. Is the company indirectly encouraging texting and driving?
It's on a whole other level. I can't even begin to fathom cars that can drive themselves. That's really crazy. I don't know how that works, and how they operate.
Just curious: Very few actresses in Hollywood represent the influential, election-sweeping Latino community in America. How empowered do you feel as a half Puerto Rican?
I'm proud to be Puerto Rican.
I'm proud to represent this minority in America. But, Latinos aren't really so much of a minority anymore because there are so, so many of us here now. So, I think it's pretty cool that I'm pretty sure I'm the first lead of a television show on Nickelodeon to be Latina.
So, that's something I'm really proud of.
I think it's nice that young Latina girls are able to identify themselves with me, and see someone in the entertainment industry like them—to inspire them, and give validation to their hopes and dreams.
Do you try to incorporate Latino-specific issues in your work?
I did write a song for Girl Up, an organization I work with which was started by the United Nations Foundation.
I traveled to Guatemala last year. I was able to see first-hand and meet these girls, and see the programs that have been funded through Girl Up. It was really an amazing experience and opportunity.
It was so inspiring. So, I came back home and worked with this amazing producer Toby Gad. We decided to write a song together, Girl Up. It has a very powerful message. And the lyrics are very honest and real. Hopefully they inspire other people to get involved, and to give back in general.
So, I would definitely be interested in incorporating Latino-specific issues in my work. For sure.
For example, there are a lot if immigrants who come to this country, and they are not able to raise their children with English. So, I think it's important to have programs early on, where they have kids who are taught how to read and write in English: So, they have a head start before elementary school. That's really important.
This new generation of celebrities—you, Demi Lovato, Selena Gomez, Justin Bieber — is socially conscious. What do you think that means for the world?
It's so important to spread a message of giving back to your community, and to the world.
Especially nowadays with this generation, having access to so much social media — Twitter, Facebook — there are so many ways to reach people: and spread awareness for whatever charity or cause you are passionate about.
There are so many ways you can really make a difference.
Specifically about your question, it definitely is easier for us to influence societal change. We can reach more people. In today's world, everything's in real time. You can really access people so much quicker and easier.
LookToTheStars.org thanks Victoria Justice for taking the time to talk to us.