US comedian Joan Rivers was among the stars who welcomed The Prince of Wales and Duchess of Cornwall at the Prince's Trust annual comedy gala this week.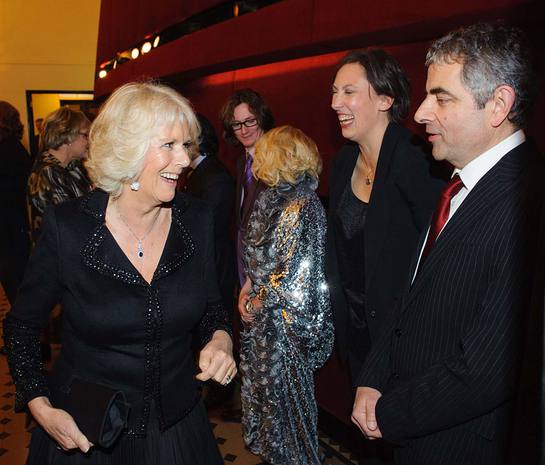 Their Royal Highnesses arrived at the Royal Albert Hall in central London after a host of comedians walked the red carpet to perform at The Prince's Trust Comedy Gala – We Are Most Amused.
The royal couple were greeted at the door by Rivers, the creative director of the show, Ben Elton, and fellow comics Rowan Atkinson and Miranda Hart.
The Prince's Trust helps disadvantaged young people to get their lives on track. The Trust supports 13 to 30-year-olds who are unemployed and those struggling at school and at risk of exclusion.
Rivers said she was looking forward to performing at the charity event but still got nervous when performing.
"I'm always very, very nervous before a performance," she said. "I'm happy after a performance, I'm terrible before."
British comedian Stephen K. Amos said that "When The Prince of Wales asks you to perform at the Royal Albert Hall, you don't say no!
"It's a wonderful cause, The Prince's Trust helps and encourages young disadvantaged people – it's amazing," Amos said.
The Prince's Trust gala series launched in 1982 with The Trust's first Rock Gala. We Are Most Amused is The Trust's 11th gala event.
The Trust's programmes give vulnerable young people the practical and financial support needed to stabilise their lives, helping develop self-esteem and skills for work. Three in four young people supported by The Prince's Trust move into work, education or training.
The Prince of Wales's charity has helped more than 700,000 young people since 1976 and supports 100 more each day. Many of the young people helped by The Prince's Trust are in or leaving care, facing issues such as homelessness or mental health problems, or they have been in trouble with the law.
Their Royal Highnesses thanked each performer after the show. Comedians including Sanjeev Bhaskar, Milton Jones, Omid Djalili and Jimmy Carr briefly chatted to the royal couple.
Director and host of the show Ben Elton said he was pleased with the performances.
"We raised lots of money for charity and we seem to have gotten lots of laughs," Elton said. "The Prince told me he enjoyed it very much and thanked me for my bit in organising it."
Miranda Hart, star of the BBC sitcom Miranda, said: "I was delighted to be here tonight and to be doing my bit to help.
"The Prince's Trust does a fantastic job in supporting the most underprivileged young people and at a time when the jobs market is uncertain, it has never been more important to ensure they have all the help they need."
Martina Milburn, The Prince's Trust chief executive, said: "It has been fantastic to have the support of so many incredible comedians.
"Money raised by We Are Most Amused will help us to change the lives of disadvantaged young people at a time of high youth unemployment."
Source: PrinceOfWales.gov.uk