By Delinda Lombardo on
Actor Sharif Atkins is best known for his role as Dr. Michael Gallant on ER and his current role in USA Network's hit series White Collar, but he is also known for his off-screen role as Smile Ambassador for Operation Smile.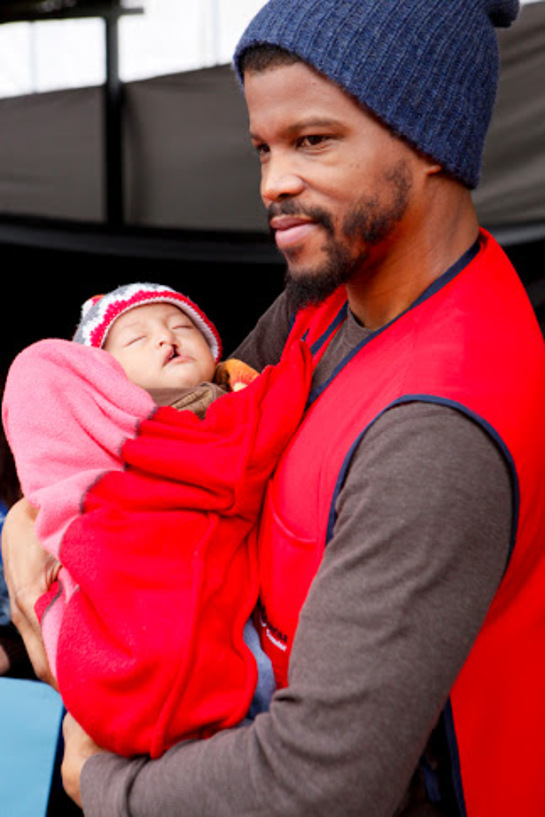 Sharif recently returned from Ecuador where he completed his first surgical mission with Operation Smile. As an official Smile Ambassador for the organization since 2011, he possesses a genuine interest in donating his time and efforts to ensure kids everywhere get to smile forever by supporting the organization's global efforts to provide free surgeries for children born with facial deformities.
Look to the Stars contributing partner, Delinda Lombardo, spoke with Atkins about spreading smiles, daily inspirations, his outlook on life and the 'ripple effect' of giving.
Why did you get involved with Op-Smile?
I'd been giving to Op Smile on a small scale for about 2-3 years after I saw a commercial of theirs that resonated with me. I was trying to figure out a way to give back – having been in the industry for as long as I have, I felt it was about time that I gave back in an official capacity, not just money, but time and effort. So after a conversation with my publicist Darren, we reached out to Operation Smile and about a year and a half ago I became an Ambassador for them, and peace, love and happiness followed.
Several things you said make me believe that you put a lot of time into researching the organization before becoming involved: one is "Packets are not people" and the other, "It's an organization that does what it says it does'?
Philanthropy is a big thing these days – it's not a bad thing – but I definitely didn't want to be a "celebrity for hire" so to speak. I didn't just want to get in my one good deed for the day and add it to my resume, there's a lot of great organizations out there and you cant participate in all of them. For me, Operation Smile was one of those that tugged at my heart strings.
You recently returned from your first mission with them, where you went to Quito, Ecuador?
Yes, this was really to solidify my involvement with the organization, and yes, packets are not people and you learn that very quickly when you are actually in the throws of what's going on and you see the effects that OpSmile is having on individuals, children and families. It's pretty cool.
I'm going to quote you again – "It's about the long journey, not the 15 minutes of fame." What have you learned from your journey so far?
I've been blessed to be able to do this [acting] long enough to realize that there are plenty of ups and downs. Just stay the course, duck and dive the disappointments, rise to the occasion when you have the opportunity – all of that is real.
Another quote from you: "It's the stuff you're doing when nobody's paying attention that is significant."
The interesting thing about doing work with Operation Smile and another organization I recently started work with this year – Share Our Strength – I know part of my job description is to help them reach those they haven't reached, that's part of it. When I was in Ecuador, I never wanted to feel like I was posing for a photo op, I just wanted to be able to talk with the families, hold the kids – and if Jasmin, our photographer, got something great, great, but if not, lets move along. I know that's part of it, but if I were a multi-multi millionaire I'd be moving in the shadows LOL dropping money here, helping kids there.
A lot of celebrities are using social media to engage fans and raise awareness, you did this on Twitter a few years ago with the #SharifScavengerHunt?
Yeah, a few years ago I did that as a way to raise awareness for OpSmile. Viewers were asked tweet when they saw my character smile during an episode of White Collar. Just trying creative ways to make people aware, it was a lot of fun.
If you could ask your fans to do one thing to improve this world, what would it be?
I wont be selfish and say donate to Operation Smile LOL! I would say – and I think most folks do it anyway – find a way to be nice to a stranger. I know its cliché, but if something nice is done for you, pay it forward. I look at a lot of thing like a pebble in the lake. You watch the ripples on a calm day by the lake, and they're so beautiful… and you really do have an effect. You may not see that effect; you might not be rewarded for what it is that was done, but being able to have that larger perspective that the smile you give that person who was about to cut you off in traffic does have an affect. It's infectious, plus you never know what people are going through in their personal lives.
Sometimes people take things like being cut-off personally when it has nothing to do with them?
Exactly, it has nothing at all to do with them.
Do you want to be remembered as an actor or philanthropist?
In terms of the legacy I want to leave behind, I'd probably say – can I be both? I definitely want to be respected as a solid actor, but in terms of philanthropy – absolutely someone who gave back what he could, in whatever capacity he could.
Finally, if you had a theme song, what would it be?
Wow… I need time to think about that, that's a thesis question LOL! But I like Michael Jackson. I grew up in the hey day and I think 'Man in the Mirror' might be one, you may hear that creep up when I'm walking down the street, um, 'You Want to be Starting Something'. Do my strut like Toby McGuire when he's bad Spiderman LOL! But you know my faith is really important to me as well, it's in my life. Amidst the ups and downs of my life and my journey it remains significant and important, so there's a song by Forever Jones called 'He Wants It All', essentially saying this is your life, it's something bigger than yourself, do it and live it with a higher purpose.
Many thanks to Sharif Atkins and the good people at Operation Smile for making this interview possible.
You can support Operation Smile and Sharif Atkins by visiting his personal Fundraising Campaign on Crowdrise at www.crowdrise.com/sharifsmission to help him raise $10,000, which can provide life-changing surgery for children around the world who are suffering from clefts.
For more information on Operation Smile, please click here